24/7 Support
Available 24/7 to help
Secure Booking
Easy & Convenient Booking
Best Price Deal
Best Deals on Packages
24/7 Support
Available 24/7 to help
Secure Booking
Easy & Convenient Booking
Best Price Deal
Best Deals on Packages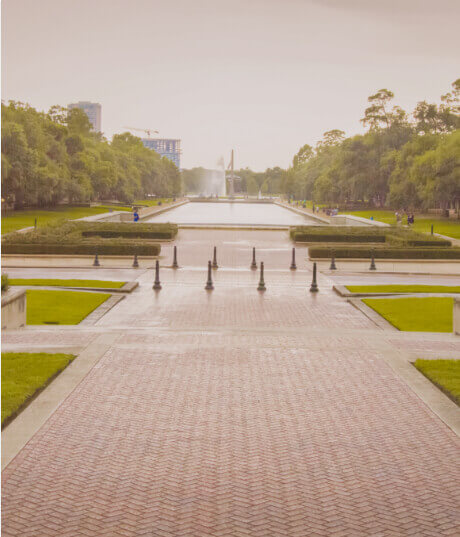 Book Cheap Flights Ticket to Houston (HOU)
Houston is the largest city in Texas and is famous for its nickname, Space City. It is the primary venue of the National Aeronautics and Space Administration (NASA). Houston is the fourth largest city in the United States of America, and it is the perfect place to spend your weekend. You can book direct flights to Houston from all parts of North America.
There is no shortage of things to do in Houston. A tourist can enjoy its culture, attractions, sports games, events, livestock shows, and many more.
Best Place to Visit in Houston –
Gerald D. Hines Waterwall Park :
It is located to the east of the Galleria Mall and is free to visit. It is open from 8 AM to 10 PM. This waterfall is almost 64 feet tall, and 11,000 gallons of water pour out per minute. You can feel a different energy in the water wall surrounding you. There is space for your kids to play, and you can have a picnic with your buddies or family members.
Space Center of Houston :
It's known as Johnson Space Center and must be on your list of top places to visit in Houston. It is a complex, and you can walk over here. You can see a replica of the space shuttle and many shuttle carriers.
There is a level 9 tour, which is a fine zone to explore. It is behind the scenes of the space center, and only 12 tickets are allotted in a day. It is a four-to-five-hour VIP tour.
Houston's Museum District :
There are 19 museums in the area, and it is known as the cultural hub in the city. The Houston Museum of Natural Science, the Menil Collection, the Museum of Fine Arts, the Children's Museum of Houston, the Holocaust Museum, and the Contemporary Arts Museum Houston are among them. Most of them are free, and you can walk around them.
The Museum of Fine Arts :
It is an adorable site in Houston, and you would not want to miss visiting this place. The Museum of Fine Arts is the precious museum in the country and is ranked in top ten lists. This place is worth visiting, and you will find a collection of features such as furniture, canvas, and beautiful arts.
Houston Public Art :
Graffiti is the name of this street art; Gonzo247 is the name of the famous but unofficial artist behind it. Houston has Inspired the art of this artist. Street art is a kind of art culture of the city, and you can find it in many places. These pieces are so realistic and give people goosebumps.
Other attractions of the city :
The National Museum of Funeral History
Houston Children's Museum for your kids
The Menil Collection
Houston Zoo
Museum of Art Cars
Memorial Park
Galveston
What Is the Best Season to Visit Houston?
Summer is an inexpensive time to visit the city because the weather is hot and locals are used to going to other places in the summertime. If you are looking for cheap hotel rooms. You can go out there in the summer season. It has barely seen snowfall in the winter season.
The best seasons to visit Houston are either February to April or September to November. Because the weather is pleasant at this time, you can enjoy your trip.
Which airlines fly to Houston?
Several airlines fly to Houston, and you can book a flight ticket as per your planning.
Air France
KLM
British Airways
Turkish Airlines
Vistara
United
Lufthansa
How to Book Cheap Flight Tickets to Houston?
To book cheap plane tickets to Houston, make sure you make reservations at least 60 or 50 days before the date of the journey. If you are looking for last-minute flight deals to Houston, you can contact JustFlyCheap.com and save your hard-earned money.
Frequently Asked Questions –
What is the best day to book the cheapest flight tickets to Houston?

If you are looking for the cheapest flight deals to Houston, then Thursday is the best day to get flight reservations.

What is the cheapest day to fly to Houston?

Monday is an expensive day to fly to Houston.

What is the airport in Houston?

George Bush Intercontinental (IAH) is an international airport in Houston that operates more than 700 flights daily.

Does Houston have nonstop flights?

There are more than 4,700 direct flights to Houston every week from different locations.

How to get cheap flights to Houston with flexible change policies?

Several airlines offer to reschedule flight tickets to Houston, and you pay the difference between the airfare of old and new flight tickets.

What are famous destinations that fly from Houston?

There are direct flights from Houston to New York City, Los Angeles, Long Beach, Louisville, Lubbock, Memphis, Midland, Nashville, New Orleans, Oakland, Miami, etc.
Inquiry
Leading online travel services provider
24X7 customer care helpline
Assured lowest prices and superior service experience
Access best flight options across all popular routes