Spirit Airlines Save Big on Flight Booking

24/7 Support
Available 24/7 to help
Secure Booking
Easy & Convenient Booking
Best Price Deal
Best Deals on Packages
24/7 Support
Available 24/7 to help
Secure Booking
Easy & Convenient Booking
Best Price Deal
Best Deals on Packages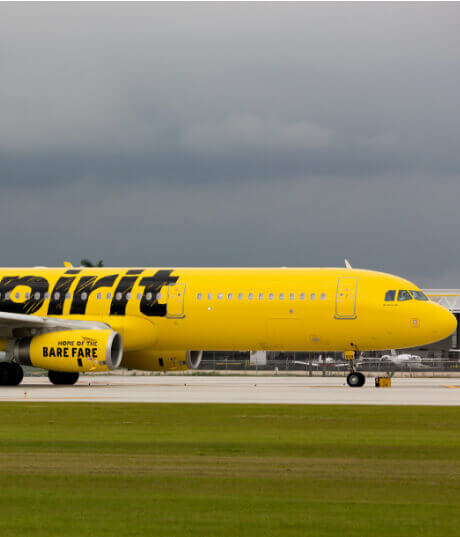 About Spirit Airlines (NK) Flights –
Spirit Airlines is an ultra-low-cost airline in the United States of America, and its headquarter located in Miramar, Florida, in the Miami metropolitan area. It is the third youngest Airbus fleet in the US, after Virgin America and the Mexican airline Volaris. The airline was founded in 1980 as a charter and started providing travel packages to major destinations, including Los Vegas, Atlantic City, and the Bahamas. Since then, the airline has been known to provide good quality services, and even today, it does provide its services to many parts of the United States. And in the Caribbean and Latin America.
Being one of the best low-cost carriers in the USA, the airline offers budget-friendly ticket prices to all its customers. However, the facilities and in-flight amenities of the airline are unmatched, and the satisfaction of the customers flying on Spirit Airlines is its topmost priority. Not only does the airline offer the cheapest airfares to all its passengers. But the flights are also frequently available to the concerned destinations, making it much easier for the passengers to choose Spirit Airlines.
Spirit Airlines' Baggage Policy -
Low-cost airlines' baggage policies are limited. However, Spirit Airlines provides a generous baggage policy to all its customers. It is essential to know the baggage policies before flying with an airline. Here, we are providing the baggage policies of Spirit Airlines so that you may have a clear understanding of them. You may go through the policies before booking your tickets so that you do not face any confusion later.
Carry-on baggage :
The airline allows passengers to carry one personal item such as a purse, briefcase, or laptop bag free of charge. The maximum allowed dimension is 40 linear inches (18 x 14 x 8 in) or 102 centimeters (46 x 36 x 20 cm).
The carry-on baggage is subject to a charge as levied by the airline. The maximum dimension allowed in carry-on baggage is 50 linear inches (22 x 18 x 10 in) or 127 centimeters (56 x 46 x 25 cm), including handles and wheels.
In case, a passenger has any queries regarding the baggage allowance call the support team.
Checked Baggage :
Every customer of Spirit Airlines allows the customer to have two checked bags free of charge for every class and route. The maximum combined dimension of the baggage can be 62 inches or 157 centimeters (length + width + height). The maximum weight should be 40 pounds or 18 kilograms. Furthermore, you may contact the customer support team of Spirit Airlines to know the details.
In-Flight Services and Amenities -
Economy Class :
The Economy Class offered by Spirit Airlines is very popular among all passengers since they get an opportunity to travel at the lowest price. Despite the price, the services in this class are good, and the amenities are satisfactory. The seats provided for this class are comfortable and relaxing. Because of the low airfares, the services provided in this class are somewhat limited but adequate for a comfortable journey.
Business Class :
As the name suggests, Business Class is meant for the economically higher sections of society and does provide a premium level of service to all its passengers. The services in this class are high, and special care has taken to make your journey comfortable. Special arrangements for your entertainment and a large TV screen has attached in front of your seat, where you may entertain yourself with the latest movies and music. A wide variety of cuisines are available on the flight. Which have been prepared by world-class chefs, and passengers may choose them as per their preference. A wide variety of alcoholic and non-alcoholic beverages are available on the flight and are served to the passengers.
First Class:
The first class of Spirit Airlines is for the elite section of society. The seats offered in this class have some extra recline and can be converted into fully flat beds. The meals and snacks provided for this class are unique and take your experience to the next level. A wide variety of expensive beverages are available on the flight, and passengers are also allowed to consume alcohol. A priority check-in facility is available for the passengers. And they do not have to stand in long queues at the airport. First-class passengers also have access to the executive lounges available at the airport.
FAQs Spirit Airlines –
Does Spirit Airlines provide online ticket booking?

Yes. You can make an online reservation via Spirit Airlines' official site. Follow the path and get your seat.

How to Cancel My Spirit Airlines Tickets?

If you want to cancel your flight booking call the reservations department and request a refund (if you want). Or, log in to the official site, then my account.

What does an airline charge for a flight cancellation?

It depends on time. If you cancel your flight journey before two months, it is free of cost. For 7 to 59 days, you must pay $49. In 3 to 6 days, $79. If you are canceling before two days, then $99.

Can I make a name change on Spirit Airlines flight tickets?

You can make changes and corrections to your itinerary, but you cannot transfer your ticket to another person.

How many destinations are flown by Spirit Airlines?

Spirit Airlines flies to 47 domestic destinations and 18 international destinations.

How should I contact the officials of Spirit Airlines?

To contact Spirit Airlines officials, you can find a toll-free number on the Spirit Airlines official site.
Inquiry
Leading online travel services provider
24X7 customer care helpline
Assured lowest prices and superior service experience
Access best flight options across all popular routes