24/7 Support
Available 24/7 to help
Secure Booking
Easy & Convenient Booking
Best Price Deal
Best Deals on Packages
24/7 Support
Available 24/7 to help
Secure Booking
Easy & Convenient Booking
Best Price Deal
Best Deals on Packages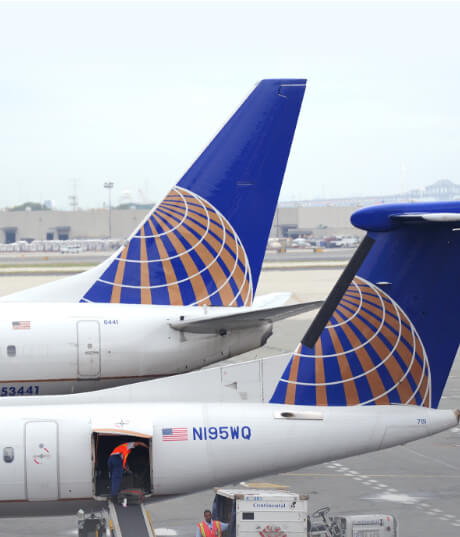 About United Airlines (UA) Flights –
United Airlines is the top carrier in the United States of America. The airline has one of the biggest international and domestic flight chains and flies to more than 340 destinations with 790 aircraft. Its headquarters are in Willis Tower, Chicago, but they have several hubs apart from it. United Airlines is a member of Star Alliance, and several airlines are partners with them. An airline considers its journey to begin with the purchase of a ticket, and end with the arrival of a flight at its destination. As a result, we have compiled the best flight ticket deals to start your journey with united airlines reservations.
United Airlines' global partner airline list
Aer Lingus
Aeromar
Air Dolomiti
Airlink
Azul
Boutique Air
Cape Air
Edelweiss
Eurowings
Eurowings Discover
Hawaiian Airlines
JSX
Olympic Air
Silver Airways
Virgin Australia
Vistara
United Airlines' hubs are all located in many places in the United States. We have listed the airline's eight hubs below to help you plan your itinerary before you begin the booking process:
George Bush International Airport, Houston
San Francisco International Airport.
Washington Dulles International Airport, Washington, DC
Los Angeles International Airport.
Newark Liberty International Airport, Newark
O'Hare International Airport, Chicago
Denver International Airport
Antonio B. Wonpat International Airport, Guam
United Airlines Seating Options -
Basic Economy Class on United Airlines :
It is the lowest flight cabin of United Airlines, and it has similar flight facilities as Economy Class. You can find a basic economy class on selected routes. However, the flight cabin does not permit full-sized hand luggage, seat upgrades, or group seating.
Economy Class on United Airlines :
The economic class has several advantages compared with the basic economy. Passengers can recline their seats in this cabin, and you can enjoy movable headrests and 7-inch touchscreens for entertainment. They also provide inflight Wi-Fi and entertainment (some flights have a DIRECTV facility). When traveling internationally, you can enjoy a complimentary meal. Domestic passengers have to buy it.
Economy plus Class on United Airlines :
You can find this cabin on all United Airlines flights. Generally, in a plane, you can find it in the front and exit rows. It can recline up to 7 inches and pitch up to 37 inches. If you have a membership of Mileage Plus with United Airlines, then you can choose your seats.
First and Business Class on United Airlines :
Airlines operate this cabin as first class on domestic flights but as the business class for international travel. Passengers in this cabin have some privileges like priority boarding, pre-departure drinks, complimentary meals, and more.
Premium plus Class on United Airlines :
Compared to other economy products, this cabin is a premium offering with more space and comfort. The passengers can also take advantage of Saks Fifth Avenue and an amenity kit. The meals are served with complimentary alcoholic beverages.
United Airlines Polaris Business Class :
It is the most precious flight cabin of the airlines, and they have separate check-in, luggage handling, priority boarding, and screening. You can move your flight seat to 180 degrees. It's an adjustable flight seat with many sockets for charging, your head, and your armrest.
On board, guests are welcomed with a complimentary drink, and the multi-course meals are carefully selected by chefs in collaboration with the Trotter Project.
You can enjoy the United Polaris clubs and United lounges at the airport free of cost.
Frequently Asked Questions –
Does United Airlines offer an online web check-in facility?

Yes, you can check in via United Airlines' official site.

Can I choose my journey seat online?

United Airlines provides an online seat selection facility, and you can choose while booking your seat.

How many flights are operated by United Airlines every day?

What is the baggage limitation for United Airlines for domestic travel?

What is the baggage limitation for United Airlines for domestic travel?

In economy class :

Two handbags (a carry-on bag and a personal item) should not be more than 50.70 lbs.

Business Class :

Two handbags (one carry-on and one personal item) weighing no more than 70.54 lbs.

First-class :6>

Two handbags (a carry-on bag and personal item) which should be less than 70.54 Lbs.
Inquiry
Leading online travel services provider
24X7 customer care helpline
Assured lowest prices and superior service experience
Access best flight options across all popular routes