24/7 Support
Available 24/7 to help
Secure Booking
Easy & Convenient Booking
Best Price Deal
Best Deals on Packages
24/7 Support
Available 24/7 to help
Secure Booking
Easy & Convenient Booking
Best Price Deal
Best Deals on Packages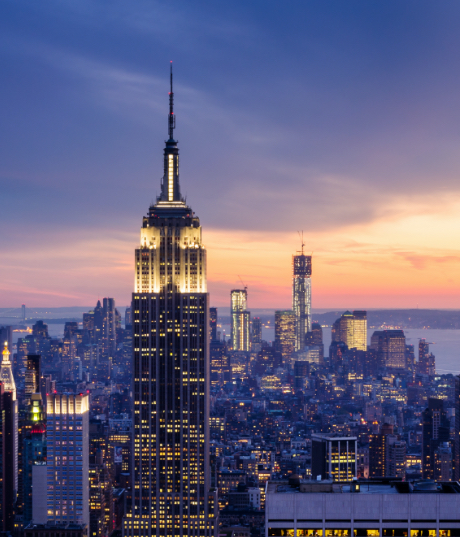 Book Cheap Flights Tickets to New York (NYC)
New York is one of the greatest and most iconic cities. It has many world-class sites, places to go, and numerous things to do. Millions of people from every country come to see and enjoy New York. It is one of the top five most visited cities in the world. New York City is a delight to visit because many of the top attractions are close to one another or can be reached in a short ride. It does not matter where you live. You can get cheap flight tickets to New York with JustFlyCheap.com.
New York's Top Attractions -
Statue of Liberty :
It was a symbol of friendship between America and France. The Statue of Liberty is a popular destination and the most gigantic statue in the world. People from around the world come to see it. The beauty of the statue can be seen and admired from the land, and you may also take a short boat trip.
Central Park :
Central Park is a beautiful destination for all the tourists and people who visit the place to enjoy the calm atmosphere here. It is one of the wonderful parks in New York City. Although it is a great place to explore, most activities are free of charge.
The Metropolitan Museum of Art :
The Metropolitan Museum of Art is one of the most famous museums of art in the United States of America. The primary attractions of the museum do consist of huge collections of works of art, which originated over a span of 5000 years.
The Empire State Building :
Trademark location in New York. It is one of the key tourist spots in the city, almost 382 meters tall and 102 storeys high. It was opened in 1931 and became an iconic building in the city. An interesting fact about the Empire State Building is that you can see up to 80 miles from the top of building.
The 9/11 Memorial & Museum :
Before September 2001, there were twin World Trade Centers on the Manhattan skyline, but September 11, 2001, was a heart-touching day because of the huge loss of people in US history. In the memorial of those who died, there was a 9/11 memorial, and a museum opened. You can feel them once you have been there. And there is the largest waterfall made by humans in North America.
Top Things to do in New York -
Take a sightseeing tour
See a Broadway Show
View of the stunning New York Skyline
Attend a sporting event
Visit Times Square.
How to Reach and Get Around New York?
The quickest way to visit New York City is to take the air route. Flights are available for New York City from all the major destinations in the world. John F. Kennedy International Airport is the primary airport in the city and is located 16 miles southeast of Midtown Manhattan. Many options, such as buses and taxis, are available outside the airport campus, passengers can hire to get to their desired destinations.
How Can I Get a Cheap Flight to New York?
The best way to make good savings on your New York flights is to book your flight tickets to New York with us. We find the best deals for you that you will not get anywhere else. Our dedicated customer team, with years of experience and knowledge, is always ready to help you and will help you to get the best deals for your bookings.
When should you visit New York?
You should plan your trip to New York from April to June or November to December. April to June is the Spring season in the city. Around this time, you will find beautiful weather in New York, and you can explore the city without the rush.
November and December, we all know this is festival season, and you can see and feel the energy of the city and
Frequently Asked Questions –
How far is downtown New York from JFK airport?

It is 13 miles from JFK airport to New York downtown. You can hire a car to go there.

How many airlines operate to/from New York?

There are more than 3,000 commercial flights, and 79 airlines from 233 airports around the world operate each day.

What is the cheapest day to fly to New York?

Tuesday, Wednesday, and Saturday are considered the cheapest days to fly to New York.

What is an expensive day to fly to New York?

Friday and Sunday are the most expensive days to fly to New York.

What is the cheapest month to fly to New York?

January to March is the cheapest time to book plane tickets to New York.

How many airports are there in New York?

There are three major airports in the city.

.

John F. Kennedy (JFK).
LaGuardia Airport (LGA)
Newark Liberty International Airport (EWR)

What is the cheapest day of the week to book flights to San Francisco?

The cheapest day to book cheap flight tickets to San Francisco is Tuesday and Wednesday.
Inquiry
Leading online travel services provider
24X7 customer care helpline
Assured lowest prices and superior service experience
Access best flight options across all popular routes