24/7 Support
Available 24/7 to help
Secure Booking
Easy & Convenient Booking
Best Price Deal
Best Deals on Packages
24/7 Support
Available 24/7 to help
Secure Booking
Easy & Convenient Booking
Best Price Deal
Best Deals on Packages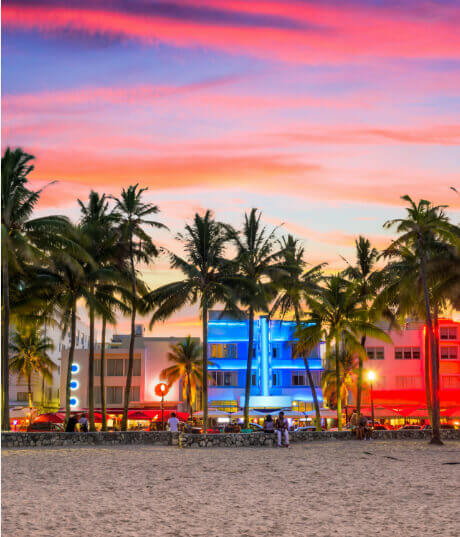 Book Cheap Flight Tickets to Miami (MIA)
Miami is a town that can pay tribute to its historical past while simultaneously remaining on the cutting edge of its future, from the Art Deco-lined coast of Miami Beach to the couture-filled streets of the Design District. For nearly a century, it has been known as Magic City, a playground for world trendsetters, and tour guide justFlyCheap.com knows where to find that glitz and provides cheap flight tickets to Miami.
Miami is one of the leading holiday resorts in South Florida with beaches, climate, history, culture, sports, and entertainment. Downtown Miami is a contemporary city and a cultural heritage site, separated from the Atlantic Ocean by Biscayne Bay and Miami Beach.
What Has Miami Got For You?
Miami, the famous beach of America, has its beauty and glamour. The hub of beautiful beaches, fantastic cuisine, and fiery nightlife. Not many cities around the world, and blessed like Miami because of its beautiful natural environment, which is perfect for taking sunrise walks across the white sandy beaches surrounded by teal water. When the city is taken care of at the night, Miami blooms in vivid colors the festival fever reaches a different level, creating irresistible magic. You can also witness the mix of art and creativity around the city. It is one of the many features you must discover in Miami.
When Is the Best Time to Visit Miami?
The high season in Miami, as the regular influx of traveler's shows, is from January to April. But the joys of the quieter summer months of the city—from June to September—are found by budget-friendly and multidisciplinary travelers. Miami is open for business while it is part of the so-called hurricane belt that leaves it susceptible to unhappy weather between June and November.
When should you visit Miami?
March to May is when you should visit Miami because the temperature is good for outdoor activities. At restaurants and other tourist destinations, since these months are deemed the high season, restaurants are crowded, and the rates are relatively high, making it vital to book tickets at the best prices at least 2 to 3 months in advance. The temperature between December and February is mild and can be regarded as the best time to discover the cities because the crowd is somewhat smaller than in March to May, while the climate is still incredible. In the summer, visiting Miami is not a good idea as the temperature is high and hurricanes are always available.
Miami's weather -
The average temperature in July is 88 degrees Fahrenheit (28 degrees Celsius). The coolest month is January, with an average temperature of 68 degrees Fahrenheit (20 degrees Celsius). Travelers not put off by the concept of humidity are expected to visit June through November if the most famous restaurants and clubs have significant deals and getting a table is a snap.
Places You Shouldn't Miss In Miami -
Art Basel Miami Beach
Bill Baggs Cape Florida State Park
History Miami
Miami Beach Botanical Garden.
New World Center
Miami's Perez Art Museum
The SoundScape Cinema Series
Wine and Food Festival in South Beach
Venetian Pool
Vizcaya Museum & Gardens.
Wynwood Walls
Amelia Earhart Park
The Antique and Collectibles Market
How to reach Miami?
Miami is a popular tourist destination, hosting several world-class airports. With several direct flights to and from the Miami airports, it is always possible to reach the town by plane. Even though hundreds of airlines fly into town, you have the option of selecting your flight. But it can be a little difficult to book your flight at the highest rates, but not if you book via our website because we have discounts and deals available on our website, JustFlyCheap.com. Book your tickets at least 40-50 days in advance, and you are guaranteed the highest rates.
Airlines for Miami -
British Airways
United Airlines
Qatar Airways
Alitalia Airlines
Virgin Atlantic Airlines
Aeroflot Airlines
Lufthansa Airlines
Airports in Miami -
Miami International Airport.
Fort Lauderdale-Hollywood International Airport.
Save Great Amounts on Flights -
The best way to travel to Miami is to book cheap flights without spending a fortune at JustFlyCheap.com. Most travelers purchase their flight tickets early for Miami. We will only book tickets with you and ensure you have great deals and amazing offers on all bookings. Therefore, we recommend that you use JustFlyCheap.com to save your money and get wonderful service. Get quick and affirmative assistance. Our service team is available 24 hours a day.
Frequently Asked Questions –
What is the best day to book cheap flight tickets to Miami?

Tuesday is the cheapest day to fly to Miami.

Which day should I avoid flying to Miami?

If you are planning to fly to Miami on Friday, you should avoid it because it is costly compared to other days.

What are the famous festivals in Miami?

The Ultra Music Festival is one of the most famous festivals in Miami. It has returned after two years because of COVID-19.

How much time does it take to fly from Los Angeles to Miami?

It takes approximately 5 hours and 30 minutes from LAX to Miami International Airport.

What is the distance between central Miami and MIA?

It is close to the central city but approximately 6 miles from downtown Miami.

Do airlines fly non-stop to Miami?

Yes, there are more than 5,000 non-stop flights to Miami every week.
Inquiry
Leading online travel services provider
24X7 customer care helpline
Assured lowest prices and superior service experience
Access best flight options across all popular routes