24/7 Support
Available 24/7 to help
Secure Booking
Easy & Convenient Booking
Best Price Deal
Best Deals on Packages
24/7 Support
Available 24/7 to help
Secure Booking
Easy & Convenient Booking
Best Price Deal
Best Deals on Packages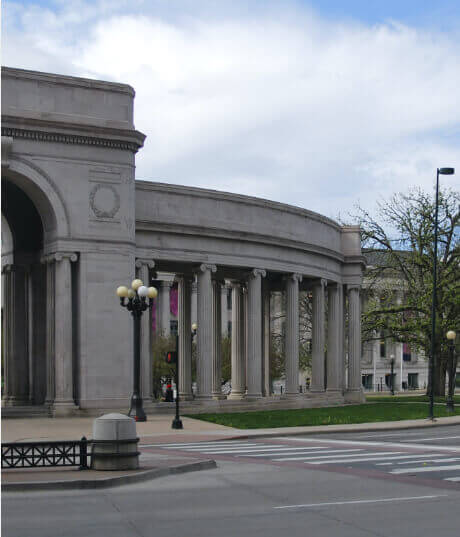 Book Cheap Flights Ticket to Denver (DEN)
Denver is called the Mile High City as it is situated one mile above sea level. The history dates back to 1850 when Cherry Creek became famous for its gold discovery. But today, the capital city of the US state of Colorado has become a glittering metropolis with all kinds of entertainment options and attractive elements on offer to visitors. The backdrop of the Rocky Mountains and more than 300 days of sunshine bring breathtaking visual appeal to the city. The city is generous enough to let visitors enjoy the many attractions that it has in store for them—from museums to shopping and gallery hopping in Cherry Creek North or wildlife observation at the grand Denver Zoo. There are many non-stop flights to Denver (DEN) across different countries, and JustFlyCheap.com provides the best deals.
Tourist Attractions in Denver -
There is no scarcity of attractions in Denver, from famous museums to art galleries to lush green parks. From families to couples, everyone can enjoy the city. Have a look into what Denver has to offer:
The Kirkland Museum of Fine and Decorative Art :
The Kirkland Museum has a wide range of decorative arts from 1880 to 1980. The National Trust for Historic Preservation's Historic Artists' Homes and Studios program includes Kirkland Museum as a participant.
Colorado State Capitol :
This magnificent building is on a low hill on the east side of Civic Center Park. Along with other skyscrapers, the State Capitol also dominates the skyline of Denver. Apart from the three major attractions mentioned above, the city of Denver offers many more, which we have enlisted below:
Larimer Square
United States Mint
Cherry Creek North
Civic Center Park
16th Street Mall
Denver Botanical Garden
Red Rocks Park and Amphitheater
Denver Zoo
Denver Art Museum :
This massive museum exhibits a large collection of art from almost every continent—American Indian, African, Asian, and Oceanic art. They also include Spanish colonial and pre-Columbian arts.
The Best Time to Visit Denver -
Winter in the city is too cold and does not observe an influx of tourists, although the Rocky Mountain ski resort is near the town. If you are an avid skier, you can get a good deal during the winter. The high season is summer, which prevails from June to August. This season offers warm weather and is perfect for sun-seekers. But the hotel rates have become the highest. The spring season (April to May) and fall season (September to October) are the best times to visit Denver. Because the weather is pleasant, there is less tourist traffic, and the cost of lodging is lower.
Airports in Denver -
The city of Denver and its surrounding areas have several airports. These airports provide connections between the city and the rest of the world. Have a look at them once:
Denver International Airport (DEN)
Centennial Airport
Rocky Mountain Metropolitan Airport.
Front Range Airport
Boulder Municipal Airport.
Erie Municipal Airport.
Airlines That Fly To And From Denver -
Many domestic and international airlines serve the city by bringing in numerous visitors from around the world. These airlines have excellent in-flight amenities with the best customer service at the airports. We have enlisted some of the airlines below:
American Airlines
United Airlines
Frontier Airlines
Spirit Airlines
Air Canada
Alaska Airlines
Lufthansa
British Airways
ANA (All Nippon Airways)
SWISS
Air India
How to Get Around in Denver?
The most convenient ways to get around Denver are on foot and by light rail. Most of the things to do can be covered by walking as they are in downtown Denver and fall within walking distance of one another. But the attractions are scattered around the city. You can resort to the Regional Transportation District's (RTD) light rail routes. RTD also operates an extensive bus system, but the routes could be hard to navigate. Hiring a car to get around the city is another great option.
Frequently Asked Questions Denver–
What is the cheapest day to book cheap flight tickets to Denver?

If you want to save big on flight tickets to Denver (DEN), then Saturday is the best day to reserve flight tickets.

What is the expensive day to book plane tickets to Denver?

Sunday is higher compared to other days for booking flight tickets to Denver.

How many flights operate from Denver International Airport?

Around 1,600 flights are flying from Denver international airport every day. There are 215 destinations with non-stop flights from Denver.

What are the best spots to visit in Denver?

There are many popular places to visit including Rocky Mountain, Denver Art Museum, Botanic Garden, and others. Make sure you enjoy Denver's music festivals once.

What is the average flight price from New York to Denver?

If you are booking a round-trip flight ticket from New York to Denver, it will cost around $312. However, airfare is subject to change, so you should double-check before purchasing a ticket.
Inquiry
Leading online travel services provider
24X7 customer care helpline
Assured lowest prices and superior service experience
Access best flight options across all popular routes