Air canada Airlines Book Now & Save!

24/7 Support
Available 24/7 to help
Secure Booking
Easy & Convenient Booking
Best Price Deal
Best Deals on Packages
24/7 Support
Available 24/7 to help
Secure Booking
Easy & Convenient Booking
Best Price Deal
Best Deals on Packages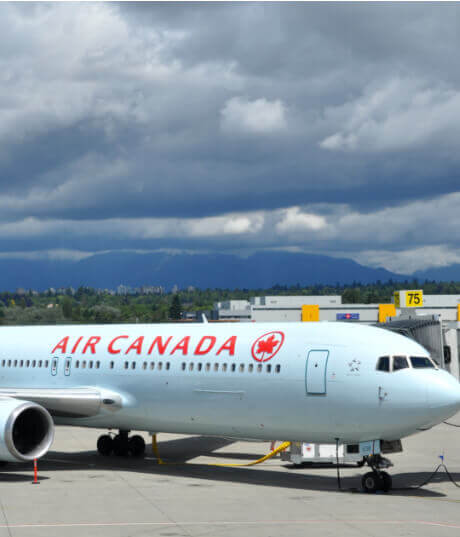 About Air Canada Airlines (AC) Flights –
The flag carrier, Air Canada, is the nation and the largest airline in terms of fleet size and passenger volume. The airline flies to 207 domestic as well as international destinations with a staggering fleet size of 190 aircraft. Air Canada is based in Montreal, Quebec, and has four hubs, the largest of which is Toronto Pearson International Airport. It is a member of the Star Alliance group.
Air Canada Service Classes:
Signature ClassThis cabin offers the highest level of opulent service and comfort when you are in the air. It is provided by every wide-body aircraft. The Executive Pod and the Classic Pod are the two different styles of Signature Class cabins.
Business ClassIt is one of the premium travel classes on Air Canada. The seats are arranged 2-2 abreast with a 124-degree recline and a 21-inch width. It has a wide range of services, and you can find out about complimentary food and drinks and in-flight entertainment.
Premium EconomyThe cabin features better seats than the economy class. They provide greater recline and comfort. Premium Economy passengers are offered personal audio-video on-demand and a wide selection of music, with complimentary meals and drinks.
Economy ClassIt is one of the basic travel classes of the airline and is available to all aircraft. Basic facilities such as complementary foods, drinks, and in-flight entertainment are provided for all long-haul flights. However, you must pay for your meals and alcoholic beverages on flights within North America.
Seats:
Air Canada economy class seats are organized with a 30 to 32-inch pitch and a 4.5 to 6-inch recline.
Premium economy class seats are configured in 2-3-2 style and have a 20-inch width with a 37-inch pitch.
Business-class seats are placed 2-2 abreast and have a 120-degree recline with a 20-inch width.
Signature class seats are configured in a 1-2-1 configuration, are fully convertible to flatbed, and have a width of 21 inches and a seat pitch of 7 inches.
Baggage Policy: Air Canada
Carry-on Allowance: Air Canada allows customers to have one carry-on bag with one personal item. It could be used as a purse, a laptop bag, or a handbag in all cabins. The maximum dimension for the carry-on bag is 55 x 23 x 40 cm, and for the personal item, 33 x 16 x 43 cm is allowed on a flight. Do not forget that an oversized carry-on bag would go on hold at the gate.
Checked Baggage Allowance: Air Canada determines the amount of checked bags allowed based on the route. A checked bag may not exceed 292 linear centimeters in length, width, and height. Its weight is limited to 32 kilograms.
Air Canada Check-in Options
Online Check-in: Online check-in options are available 24 hours before departure. You must visit Air Canada's official website on your device browser. Once the process has been completed, you can print your boarding pass. You can also select your preferred seat and request a meal during online check-in.
Mobile Check-in: Airlines have started to use mobile check-in facilities. To do a mobile check, first of all, you must have downloaded the official app of the Air Canada airline from the Play Store or iStore. Also, you can do mobile check-in starting 24 hours before the flight departure time. Once it has been completed, you can download the boarding pass.
Airport Check-in: Apart from the above check-in options, you can check in at the airport kiosk or Air Canada counter. However, these kiosks are available at some selective airports. At the counter, the airline representative will help you with the check-in procedure.
To take advantage of the best prices and lucrative deals on Air Canada flights. Get in touch with us today. We are available 24*7 at our contact center to provide you with full-fledged assistance in flight booking.
Frequently Asked Questions –
What is the cancellation policy of Air Canada?

If you cancel your flight tickets within 24 hours of purchase, the airline does not charge for it and offers a full refund to the passenger. But after 24 hours, they started making changes.

Can I make changes to my Air Canada flights?

Although there are no limitations on Air Canada flights, it should not violate the policies of Air Canada. And you must pay the fare difference. Note: If passengers request changes within 24 hours of booking their tickets, the airline will not charge them.

What Are the European Destinations of Air Canada?

There are so many European destinations covered by Air Canada, and some of them are the United Kingdom, Greece, Germany, Brussels, France, Lisbon, and Italy.

Does Air Canada provide any frequent flyer programs?

Aeroplan is the name of the frequent flyer program of Air Canada.

Can I choose my flight seat during online booking?

Yes. Air Canada Airlines provides a facility for passengers to choose their seats during the online flight booking process. So, you can select as per your choice.

Where can I get an Air Canada flight refund?

Airlines says that you can contact officials at +1-888-247-2262 (toll-free number). if you have a refund problem.

Are Air Canada's last-minute flights expensive?

Usually, last-minute flight tickets are expensive. But Air Canada offers affordable flights to a select number of destinations.

Can I upgrade my Air Canada flight tickets?

Yes. Passengers can update their flight tickets. But they have to pay the fare difference.
Inquiry
Leading online travel services provider
24X7 customer care helpline
Assured lowest prices and superior service experience
Access best flight options across all popular routes