Alaska Airlines Book Now & Save!

24/7 Support
Available 24/7 to help
Secure Booking
Easy & Convenient Booking
Best Price Deal
Best Deals on Packages
24/7 Support
Available 24/7 to help
Secure Booking
Easy & Convenient Booking
Best Price Deal
Best Deals on Packages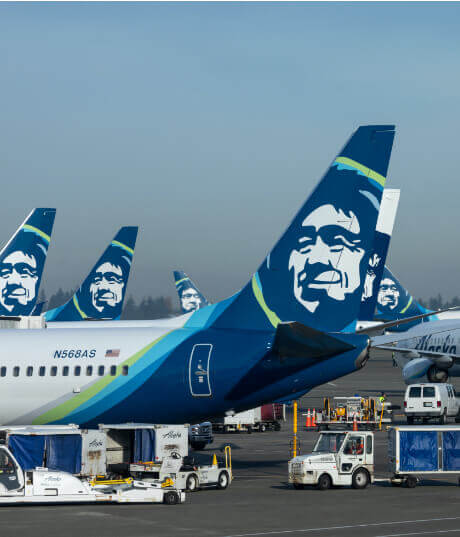 About Alaska Airlines (AS) Flights –
Alaska Airlines is the fifth largest airline in the US in terms of fleet size, destinations served and number of passengers. Headquartered in SeaTac, Washington, the airline operates large number of flights to the contiguous US, Hawaii, Canada, Costa Rica and Mexico from Alaska. Though Alaska airlines are not member of any airline's alliance, yet it has codeshare agreements with 17 airlines. The airline was founded in 1932 as McGee Airway which used to offer flights from Anchorage, Alaska but now it connects most of the small towns in the US to major transportation hubs through regular flights. Most of the airline's revenue comes from outside Alaska through flight operation. Alaska airlines have five hubs, out of which Seattle-Tacoma International Airport is the largest. With a staggering fleet size of 335 aircraft, the airline flies to around 116 destinations. What is more is for twelve consecutive years Alaska airlines have been ranked for the highest customer satisfaction by J. D. Power and Associates.
Alaska Airlines Service Class -
Main Cabin :
Alaska Airlines offers excellent experience in its main cabin. The seats in the cabin are reclining, relaxing, and comfortable with leather cover. In the seatback pocket books, magazines and devices are available for you to use when in air. The airline gives you an opportunity to pre-order your meal up to 12 hours before you travel. The airline's main cabin menu serves fresh meals and snacks, which bear West Coast flavour, with complimentary wine. The airline also lets you enjoy ceaseless streaming of data to stay connected to social network during your flight. You can enjoy a myriad of entertainment options like movies, songs etc for free.
Premium Class :
This class of Alaska Airlines comes with better seat configuration with extra legroom, complimentary drinks like cocktails, wine, bear and a snack. Seats in the cabin give you more space than the main cabin allowing you to stretch out. The seatback pockets have more space to store books, magazines and your go-to travel supplies. You can enjoy hot meals filled with fresh ingredients that carry West Coast flavour. Apart from the above, the airline offers onboard free Wi-Fi to let you stay connected on social media. Free movies and TV shows are also available onboard for you.
First Class:
The airline gives you an exceptional experience with premium service in First class. It offers everything in this cabin from comfortable leather seats to fresh West Coast meals and complimentary drinks. The seats in first class are spacious, custom-designed Recaro leather seats with great recline. The seats are more detailed with footrests, tablet holders, and easy-to-reach cup holders. You can also go for pre-order meal up to 24 hours before you travel. Apart from cozy seating, the airline also provides with larger entertainment tablets for free. First class passengers of Alaska Airlines can enjoy lounge stay at the airports between the flights.
Alaska Airlines Baggage Policy -
Carry-on Baggage :
You are allowed to bring one carry-on bag and one personal item such as purse, laptop bag etc onboard flight. The maximum size of the carry-on bag must not exceed 22" x 14" x 9" or 45 linear inches including wheels and handles. And you must be able to lift the bag on to the overhead box and your personal item must fit under the front seat.
Checked Baggage:
The allowed dimension of a checked bag must be up to 62 linear inches or 157 centimetres, while weight allowance of each bag must be 50 pounds or 23 kilograms. For the first checked bag you need to pay $30, for second bag the airline charges $40 and for the third and additional bag you need to pay $100 each. For overweight bag (from 51-100 lbs) the airline charges $100 and for oversized bag (63-115" linear) the charge is $100.
Alaska Airlines Check-in Facilities -
Like other major airlines Alaska Airlines too offer convenient check-in options for your flights. Below we have discussed the check-in options:
Online Check-in :
The most convenient way to check-in for your flight is online check-in. it opens 24 hours before the flight departure time. For online check-in you need to access Alaska Airlines official website. You can also check your bag and select a preferred seat during online check-in. However, seat selection depends on the airlines seating policy. Once the check-in is over, you can get your boarding pass issued.
Mobile Check-in :
Apart from online check-in, you can also do the same on the airlines mobile app. For this option you have to have the app installed in your mobile. Once the check-in is done, you can get your boarding pass issued and can save it in your mobile.
Offline Check-in:
In case you don't have online access, you can get the check-in opportunity at the airport. But the flip side of the airport check-in is you need to arrive at the airport well in advance and stand in queue for long. There is check-in desk to check-in with an agent and self-service kiosk.
Alaska Airlines In-flight Amenities -
The airline offers exceptional in-flight services. Starting from the cozy seats to delicious meals to complimentary drinks, everything is devoted to make you feel at home while you are in the air. In addition, the airline offers Alaska Beyond Entertainment system, which allows you to watch free movies and TV shows on your own device. You can also enjoy free Wi-Fi connectivity onboard to continue communication on the social media.
FAQs Alaska Airlines –
Can I book Alaska Airlines tickets online?

You can book Alaksa Airlines online flight tickets via their official site. Go to the website and put your information in the search box, then select and book your flight.

Can I upgrade my flight seat?

Yes, you can upgrade flight seats on Alaska Airlines. But you have to pay the fare difference and it must be 24 hours prior to flight time.

How to Earn Alaska Airlines Mileage Plan Miles?

You can earn mileage plan miles by doing the following

Fly with Alaska Airlines and our partners.
Shopping & Booking Hotels, dining, and cars with your Alaska Airlines credit card.

How to manage my booking?

To manage your flight reservation, login to your account at the official site of Alaska Airlines. You can see the manage my booking option. You can now start your journey.

Does Alaska Airlines have an assigned seating option?

Alaska Airlines does offer this option, but only if you don't choose it beforehand. Additionally, everyone who wants premium seats must pay the extra fee. If you want to choose an economy seat, then it is completely free.
Inquiry
Leading online travel services provider
24X7 customer care helpline
Assured lowest prices and superior service experience
Access best flight options across all popular routes