Lufthansa Airlines Book Now & Save!

24/7 Support
Available 24/7 to help
Secure Booking
Easy & Convenient Booking
Best Price Deal
Best Deals on Packages
24/7 Support
Available 24/7 to help
Secure Booking
Easy & Convenient Booking
Best Price Deal
Best Deals on Packages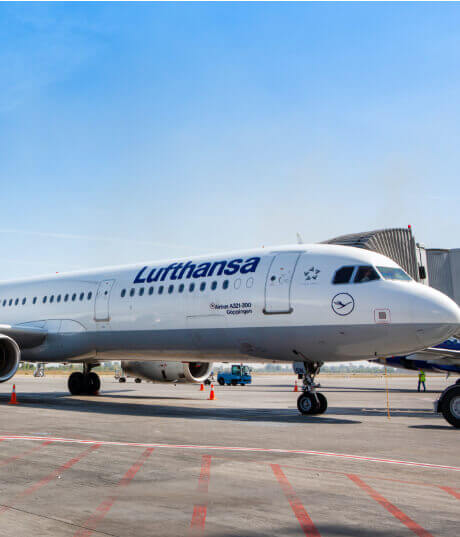 About Lufthansa Airlines (LH) Flights –
Lufthansa is the biggest German airline and the second largest in Europe. Moreover, Lufthansa is the world's largest airline alliance with five founding members of "Star Alliance," which came into form in 1997. The group owns a base of more than 700 aircraft, which makes them the group with the largest airline fleet in the world. Lufthansa's headquarters are based in Cologne. The main operations base is in the Lufthansa Aviation Centre, which is situated in Frankfurt, Lufthansa's primary hub. Flight operations are managed and maintained at the secondary hub located at Munich airport.
Classes of Services -
Economy Class :
The Economy class provides satisfactory quality of service while traveling, and it offers ample leg space and plenty of room for the passengers' seats. It is a durable and lean construction. Each seat cushion is designed for comfy seating and is convertible to an individual. Entertainment and dining services are also provided to the passengers to make their trip special.
Premium Economy :
The Premium Economy class offers the combined features of the business and economy classes. Additional benefits are given, like personal space and extra luggage allowance with the luxury of long-haul flights.
Business class :
Business class assures passengers of the comfort and services that are best in class. If the passengers get on a flight that is later than 8.00pm and the journey is about 6–8 hours, then special arrangements are made for better and sound sleep for passengers. Lounging benefits are also provided to passengers for refreshing.
First class :
First-class services come with many benefits, which is the cherry on the top. It includes valet parking, a personal assistant for individual needs, and limousine service to your flight. For a mood refresher, you get unlimited entertainment and culinary delicacies with complimentary beverages and alcohol for a luxurious feel.
Baggage policy -
The Economy and Premium Economy classes allow passengers to carry on one piece of luggage on deck, which can weigh a maximum of 8 kg. Each business and first-class allow its passenger to bring up to two bags, each of which can weigh up to 8 kg. The dimensions of the carry-on bag should not exceed 55x40x23 cm. However, the dimension of a garment can be a maximum of up to 57x54x15 cm.
In-flight amenities -
The vast variety of cuisines is served from all around the globe on long-haul flights in Lufthansa. The short and mid-haul flights offer cuisine on the route to every passenger. All aircraft are furnished with a library of contents, movies, and music. It includes national and international content as well. The flights are equipped with Flynet, which is broadband internet even above the clouds, and the service is fast enough without limit cap or any communication to connect you with the world anywhere.
Check-in options -
Online check-in :
It gets you faster availability within 23 hours before the particular flight's takeoff. Passengers can print out the boarding pass or have a screenshot on their mobile phones.
Mobile check-in services :
It gives access within 23 hours before the takeoff of the particular flight. Passengers can check in using the Lufthansa app or the website on a smartphone and book seats as per convenience. Check-in machines are the old-school way of checking in with an easy assist so that nothing can go wrong.
Automated check-in :
The Automated Check-in service is a partial service that automatically sends the boarding pass to the passenger's registered phone via SMS 23 hours before takeoff.
Late-night check-in :
The Late-Night Check-in option offers the passenger the opportunity to check in their particular luggage in the evening before their booked flight for a hassle-free takeoff.
Frequently Asked Questions –
How many destinations are covered by Lufthansa Airlines?

There are more than 245 destinations covered by Lufthansa airlines in 77 countries. The United States, Italy, the United Kingdom, France, Italy, Spain, Dubai, Belgium, Austria, India, Switzerland, and Canada are major countries.

How to book online flight tickets with Lufthansa Airlines?

Passengers can book Lufthansa Airlines flight tickets from its official website. Go to the official site, fill in the search box and click on the search button. Or, call Lufthansa Airlines' reservations team for an instant and error-less booking.

Who should I contact about a Lufthansa airline refund?

Does Lufthansa provide a seat selection option?

Yes, Lufthansa airlines provide a seat selection facility to its customers. It is not free of cost, and you must pay fees to the airlines.

How to get the best flight deals on Lufthansa Airlines tickets?

To get the best deals on Lufthansa Airlines flight tickets. You can subscribe to its newsletter and follow them on social media because they usually announce deals there.

What are the nonstop routes of Lufthansa airlines?

There are many non-stop routes from Frankfurt airport to New York, Washington D.C., San Francisco, Los Angeles, Detroit, Atlanta, Chicago, Boston, Dallas, Denver, Houston, Miami, and Seattle.

And from Munich international airport to Newark, Chicago, Denver, and Los Angeles.
Inquiry
Leading online travel services provider
24X7 customer care helpline
Assured lowest prices and superior service experience
Access best flight options across all popular routes