Book British Airways Flight Tickets

24/7 Support
Available 24/7 to help
Secure Booking
Easy & Convenient Booking
Best Price Deal
Best Deals on Packages
24/7 Support
Available 24/7 to help
Secure Booking
Easy & Convenient Booking
Best Price Deal
Best Deals on Packages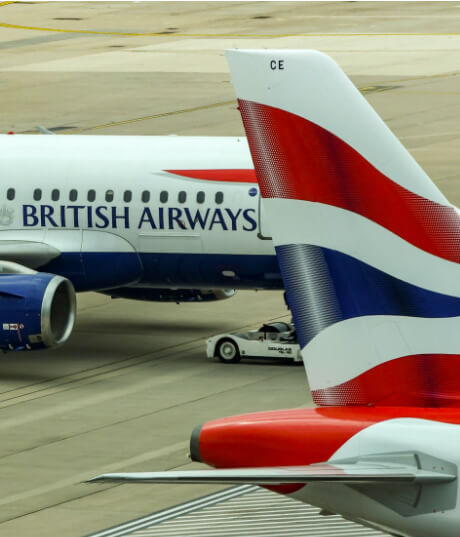 About British Airways (BA) Flights –
British Airways is the flag carrier of the UK and one of the major international airlines in the world. The airline is headquartered at Waterside, Harmondsworth. British Airways is the second-largest airline in the UK in fleet size and passengers. After merging with Iberia in 2011, British Airways created the world's third-largest airline group, International Airlines Group (IAG), is registered in Madrid, Spain. With a staggering fleet size of 281 aircraft, BA operates domestic and international flights to 183 destinations worldwide. It is a founding member of the world's third-largest airline alliance, Oneworld, along with other names like American Airlines, Cathay Pacific, etc. British Airways has two hubs, of which London Heathrow Airport is the largest, and the other one is Gatwick Airport.
British Airways Travel Classes -
BA's wide range of travel classes provides an enjoyable and memorable journey for passengers. Below are the details of the classes:
Economy Class:
BA offers excellent service in its economy class, It is known as Euro Traveller on flights within the UK and Europe and World Traveller on longer international flights. The BA economy class offers great value fares, family-friendly features, and kids' activity packs. The seats in this class are covered with leather and designed to give more space and convenience, with fully movable headrests, magazine holders, and a complimentary newspaper. On short-haul Euro Traveller, you can buy savory snacks and drinks and pay by debit or credit card. If you are a member of the Executive Club, you can also buy them with the payment of Avios. On the long-haul World Traveller, you will be provided with complimentary drinks and sumptuous meals.
Premium Economy:
British Airways' premium economy class is available on some selected international flights. It is known as World Traveller Plus. The airline lets the passengers in this class enjoy more privacy, space, and comfort than in the World Traveller class. The seats in this cabin are wider and offer greater recline, lumbar support, a headrest and footrest, and extra legroom. If you are flying in this cabin, you will be provided with a stylish quilt and cushion for extra comfort and a special amenity kit. Each seat is equipped with a personal entertainment system, noise-canceling headphones, a power socket, etc. You will also be provided with chef-designed complimentary drinks and meals.
Business Class:
BA Business Class offers outstanding comfort and style in flight and at the airport. This cabin is known as Club Europe on flights within the UK and Europe, and Club World on longer international flights. Passengers in this cabin enjoy access to departure lounges, priority boarding, more space, delicious global cuisine, a dedicated check-in desk, larger baggage allowance, hours of entertainment, and more. This cabin offers you the feeling of a favorite armchair, bed, dining table, and workstation, all in one.
First Class:
This class is available on some selective international flights. Enjoy special service, exquisite luxury, and British charm at every point of your journey, from your reservation to your final destination. From luxuriant lounges to fine dining onboard, BA ensures that everything follows its rigorous expectations. Seats in the first class are convertible to a fully flat bed with a foam and microfiber mattress topper. The passengers in this cabin can access luxurious lounges and spas. You can also enjoy seamless check-in and priority boarding, hours of entertainment in the air, and access to the Concorde Room—the airline's most luxurious lounge—if you are flying from London-Heathrow T5 to New York-JFK T7.
British Airways Baggage Allowance -
Carry-on Baggage:
Regardless of class, all customers are permitted to take one carry-on bag and a personal item such as a laptop bag or purse, or backpack on board. The dimensions of the carry-on bag or hand luggage must not exceed 56cm x 45cm x 25cm, and the personal item must not be bigger than 40cm x 30cm x 15cm. The weight allowance for both the bags is a maximum of 23 kg each, but you need to make sure that you can lift the hand luggage into the overhead bin and that your item fits the space under the front seat. If your carry-on bag exceeds the limit, you should check the extra hand luggage into the hold.
Checked Baggage:
The size allowance of a piece of checked baggage must be less than 90 cm x 75 cm x 43 cm, including handles and wheels. The weight allowance of your checked bag is 23 kg or 32 kg depending on your route and type of ticket. In World Traveler, Euro Traveler, and Domestic Economy classes, there is one piece of baggage allowance at 23 kg each, while World Traveler Y class (full-fare Economy) has two pieces of luggage allowance at 23 kg each. World Traveler Plus allows 2 bags at 23 kg each; Club Europe's baggage allowance is 2 bags at 32 kg each, and Club World and First-class allow 3 bags at 32 kg each.
British Airways Check-in Policy -
Online Check-in:
You can start online check-in before 24 hours of the flight departure time, and you need to visit the official website ba.com. During online check-in, you can select your seats too. You can print, download, or email your boarding pass. You can also print your boarding pass at the airport check-in kiosk.
Mobile Check-in:
Mobile check-in for British Airways is available for iPhones, iPad, and Apple Watch. You need to download the BA app for that. Mobile check-in opens 24 hours before the flight departure time. You can download boarding passes for a maximum of eight people booked on the same booking.
Airport Check-in:
For airport check-in, there is a kiosk where you can complete your check-in procedure with your booking reference number and print the boarding pass. You can also go to the check-in desk, where you can do the same with a BA representative.
Frequently Asked Questions -
How to cancel a flight booking?

By heading to the 'Manage my booking' section of the official British Airways website, you can apply for your cancellation.

Can I reschedule my British Airways flight tickets?

To reschedule flight tickets, you should visit the official site of British Airways. Login to your account and visit the Manage My Booking option.

What are all the major routes of British Airways?

British Airways' major routes are London to New York, London to Barcelona, London to Paris, and London to Edinburgh.

How to get a refund from British Airways?

To apply for a refund on British Airways. You must go to the Manage My Booking section. Kindly read the policies of the airlines before you do.
Inquiry
Leading online travel services provider
24X7 customer care helpline
Assured lowest prices and superior service experience
Access best flight options across all popular routes