Book Turkish Airlines Flight Deals

24/7 Support
Available 24/7 to help
Secure Booking
Easy & Convenient Booking
Best Price Deal
Best Deals on Packages
24/7 Support
Available 24/7 to help
Secure Booking
Easy & Convenient Booking
Best Price Deal
Best Deals on Packages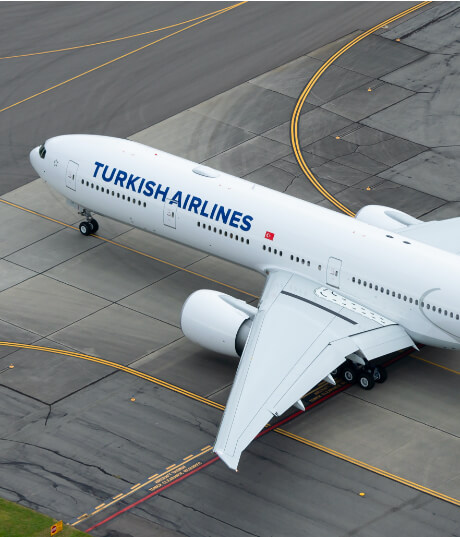 BookTurkish Airlines (TK) Flight Tickets with JustFlyCheap.com
Do you need tickets for a Turkish Airlines flight? You are in the proper location! At Just Fly Cheap, we offer complete assistance for making reservations, flight cancellations, managing bookings, and customer service. If you want to book it online, visit our website to find a variety of Turkish Airlines deals, from Economy to Business Class, and to book low-budget plane tickets. Additionally, we provide our customers with specialized services and assist them. So, give us a call right away for immediate assistance with hassle-free Turkish Airlines reservations from our honored travel specialists.
About Turkish Airlines (TK) –
The national flag carrier of Turkey and the fourth biggest airline in terms of destinations covered, Istanbul's Ataturk Airport is the hub or corporate office of Turkish Airlines. And, remarkably, it operates more non-stop flights from a single airport than any other airline in the world. It is one of the reputed members of the Star Alliance network and currently covers destinations in more than 120 nations with its sizable fleet of 330 aircraft. Turkish Airlines operates the longest flight in terms of distance, which goes to Sydney, Australia from Istanbul, Turkey, and 14,870 miles or approximately 23931 kilometers.
What are the travel classes of Turkish Airlines?
Turkish Airlines has two travel classes, which are business class and economy class.
Turkish Airlines Economy Class –
It is the basic class of airline and has many facilities and services available for passengers. Seats are adjustable, with some leg space and a manageable headrest to make the journey comfortable. Turkish Airlines is renowned for its excellent cuisine and world-class chefs to cook delicious and healthy food for long routes. Passengers can access free entertainment and several options for their kids. You can use a power socket to charge your electronic devices. And a menu that places a strong emphasis on seasonal ingredients. They make sure economy class passengers get the best experience ever.
Turkish Airlines Business Class –
If you want to feel premium and special, choose Turkish Airlines Business Class. Either at check-in or boarding, you will get priority access because of business class passengers. It is the best feeling to know that you are flying above the ocean while lying on your bed. Yes, Turkish Airlines' business seats can be lie-flat and act like a bed. With several power outlets as well as noise-canceling headphones you can ask for whatever you want to eat. Turkish Airlines provides a personal chef. At the airport, you can access a lounge. There you can enjoy food, free Wi-Fi.
What is the Baggage Policy of Turkish Airlines?
Carry-on Baggage Policy of Turkish Airlines
For Business Class passengers, two personal items and one personal item
Turkish Airlines allows the maximum dimensions of each piece of luggage to be 23 x 40 x 55 cm.
You can carry a maximum weight of carry-on of 8 kilograms.
One piece of luggage plus one personal item is allowed for Economy Class passengers.
Make sure it is not more than 23 x 40 x 55 cm.
You can carry a maximum weight of carry-on luggage of 8 kilograms.
Turkish Airlines Checked Baggage Policy
Business Class –
You can carry two baggage allowances.
Its weight could be a maximum of 32 kg.
Its dimensions should not exceed 158 cm.
Economy Class –
You can carry two pieces of luggage.
Their weight should not be more than 23 kg each or, jointly, 32 kg.
The dimensions of your luggage should be 158 cm for one and 273 cm for both.
How to do Turkish Airlines Check-in?
Web Check-in for Turkish Airlines
Now passengers can do web check-in from anywhere. Airlines accept web check-in to make check-in less crowded and more comfortable. After online check-in, you can print your boarding pass and directly hand over your luggage at the airline counter. Turkish Airlines online check-in starts 24 hours before the departure of the flight and ends 90 minutes before takeoff. Only eight passengers can do web check-in at once.
Turkish Airlines Airport Check-in
If you have missed online check-in or are used to doing airport check-in, you can do airport check-in. Make sure you leave early for the airport and keep your documents for check-in, get your boarding pass, and wait for your turn in the queue. Turkish Airlines airport check-in counters close 45 minutes early for domestic and 60 minutes early for international flights.
How to Book Turkish Airlines Tickets Online?
If you want to book Turkish Airlines flight tickets online, follow the steps mentioned below. Otherwise, call our agents for flight reservations.
Visit our website.
Search for your flight (fill in the information in the search box).
Opt for Turkish Airlines flights.
Put passengers' information (email id, phone number, name, age) on the next page.
The next step is payment.
Once payment is confirmed, you will get a confirmation email to the id provided.
Frequently Asked Questions about Turkish Airlines –
What is Turkish Airlines' most well-known route?

Barcelona, London, Amsterdam, Vienna, Toronto, Copenhagen, Berlin, Milan, Tokyo, Boston, Atlanta, Los Angeles, Miami, and Seattle are some of the famous flight routes of Turkish Airlines.

Can I fly on Turkish Airlines with my pets?

Yes, pets are allowed. Dogs, cats, and small birds (goldfinches, budgies, and canaries) are permitted in the cabin on Turkish Airlines flights. To know more, read Turkish Airlines' pet policy.

What is Turkish Airlines' Infant Policy?

Infants can only travel with a guardian. The guardian must be at least 18 years old, and each guardian can only accompany one infant passenger. Infant means a Baby is older than ten days but not more than 24 months.

Does Justflycheap.Com Provide Cheap Flight Deals On Turkish Airlines Tickets?

If you are looking for cheap flight deals, then JustFlyCheap.com is the best place for flight booking. Book it online or call our travel experts.
Inquiry
Leading online travel services provider
24X7 customer care helpline
Assured lowest prices and superior service experience
Access best flight options across all popular routes