Air France Book Flight & Save Big!

24/7 Support
Available 24/7 to help
Secure Booking
Easy & Convenient Booking
Best Price Deal
Best Deals on Packages
24/7 Support
Available 24/7 to help
Secure Booking
Easy & Convenient Booking
Best Price Deal
Best Deals on Packages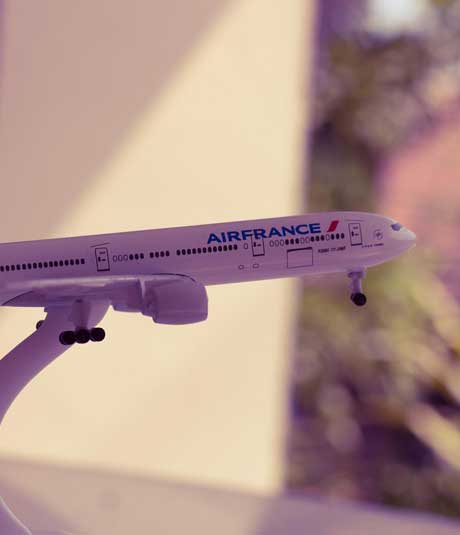 About Air France Airlines (QF) Flights –
Air France is the flag carrier and one of the leading airlines in France, and it is one of the founding members of the SkyTeam Global alliance. Air France has been headquartered in the beautiful city of Paris since its founding, and thus, Paris Charles de Gaulle Airport and Paris-Orly Airport serve as its operational hubs. It flies to over 200 destinations, including some of the major cities like Amsterdam, Bangkok, Chicago, Dublin, Delhi, Hong Kong, and London. Air France has a fleet size of more than 200. And it has codeshare agreements with several airlines, including Aeroflot, Air Europa, Air Calin, and Winair.
Classes of Services -
Economy class :
It is the basic travel class of airlines and it allows passengers to enjoy their flight by watching videos on a personal screen with a variety of TV shows and movies. Comfort is the utmost priority of the airline, and thus it provides you with a spacious seat that is very comfortable and flexible so that you can adjust it according to your needs. You can recline your seat up to 118 degrees, and there is legroom for comfort. A charging socket is available to charge a laptop or mobile phone.
Economy Premium Class :
Air France also provides Premium Economy Class with basic amenities like sleep masks, ear plugs, and refreshing towels. So that you can rest and relax absolutely free of charge. It is better than the economy class. Airlines also take proper care of your food requirements and that's why they have special meals for children and adults that include alcohol too. You can enjoy the extra space for storage and entertain yourself with the latest movies and series.
Business/First Class :
Leave all your worries aside and relax in the Premier Lounge moment you enter the airport. You also have the luxury of enjoying an exclusive spa both for men and women at the lounge. In flight, you are provided with a very comfortable seat that can be changed into a 2 m (6.5 ft) bed in case you want a sound sleep during your journey.
The airline also offers you travel kits, loungewear, and sleepers to relax while on board. You will also get a personalized 10.4-inch video screen to enjoy one of your favorite movies. The airline serves meals prepared by a top French chef that will soothe your taste buds. You also have the option to choose from a wide variety of wines as well.
Baggage Allowance -
Carry-On Baggage :
Air France offers a carry-on baggage allowance of a maximum dimension of 55*35*17.5cm, which may vary slightly as per your ticket fare and Blue Flying status. Long-haul Premium Class, Business Class, and First Class allow two hand baggage items plus one personal item with a weight limit of 18 kg (39.7 lbs).
Checked Baggage :
The total dimension allowed for checked baggage is 158 cm, including any pockets, wheels, or handles. However, the number of checked bags allowed may vary depending on your ticket fare and Blue Flying status. For economy class, only one piece of checked baggage is allowed, whereas first-class passengers can take three. The maximum weight should not be more than 32 kg or 70.5 lbs.
Air France Airlines Check-in -
Web Check-in :
Now, passengers can do an online web check-in by following simple steps. It is available before 24 hours of flight departure. You can save yourself from a long queue at the airport.
Mobile Check-in :
Airlines allow their passengers to do mobile check-in. You should download the Air France mobile app from the Play Store or Apple Store. The mobile check-in window is open 24 hours before the flight. However, passengers can print their boarding passes from here.
Airport Self-Service Kiosk :
If you missed online check-in, go to the airport and check in there. The check-in facility of Air France is available at the airport.
Frequently Asked Questions –
How do I book Air France flight tickets online?

To book online Air France flight tickets, you should go to Air France's official site. Fill in all the information and go to the payment page to make it. Now, you can call the booking team and provide them with the necessary data to make reservations.

What is the cancellation policy of Air France?

If you cancel flight tickets within 24 hours. Then there are no cancellation fees. But after 24 hours, $100 $500. If within 24 hours of the journey, then from $100 to $400.

What are the major countries served by Air France?

Air France flies to Canada, the United States, Italy, Japan, Mexico, Spain, the United Kingdom, and Germany, among other major countries. Apart from these, Air France flies to 93 nations.

How can I check my flight booking on the official site?

To check your online booking status. You should go to the My Booking Tab and enter your booking reference number with your last name.

How can I print my Air France boarding pass?

You will have the choice to download or print your boarding pass after checking in online for your Air France journey. If you download and save it, you can print it off at home and take it with you to the airport. As an alternative, you can print it at the airport check-in counter or self-service kiosk by inputting your flight information.

Can I upgrade my flight booking?

Yes, you can upgrade your flight ticket to Air France. You must call the customer care representative, and they will ask for some information regarding the booking. But passengers must pay the difference in the fare.
Inquiry
Leading online travel services provider
24X7 customer care helpline
Assured lowest prices and superior service experience
Access best flight options across all popular routes