Book Volaris Airlines Flights

24/7 Support
Available 24/7 to help
Secure Booking
Easy & Convenient Booking
Best Price Deal
Best Deals on Packages
24/7 Support
Available 24/7 to help
Secure Booking
Easy & Convenient Booking
Best Price Deal
Best Deals on Packages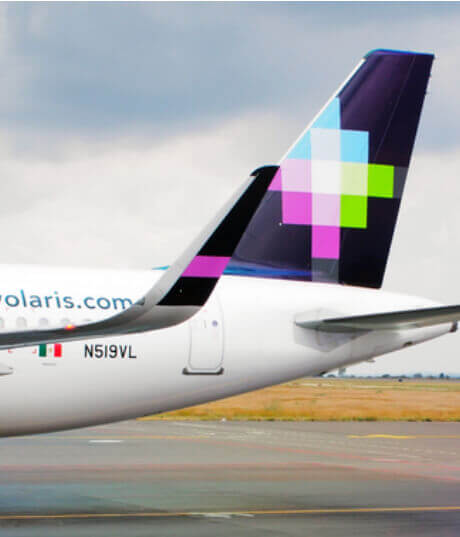 BookVolaris Airlines (Y4) Flight Tickets with JustFlyCheap.com
JustFlyCheap makes it simple to book Volaris flight tickets. You can finalize your flight ticket booking to your preferred location on the Just Fly Cheap website by following a few simple steps. Our pros, who have years of experience in the travel sector, will walk you through each step of booking flight tickets to your selected location. So, if you're looking for the ideal way to make Volaris Airlines Reservations, make sure you've phoned us and used our services.
About Volaris Airlines (Y4) –
Volaris is one of the low-cost, Mexico-based airlines. Airlines offer several flight services in North America. Volaris airlines operate mainly domestically in Mexico or internationally in the United States. More than 65 destinations are flying by the airlines. Volaris is based in Santa Fe, lvaro Obregón, Mexico City, and has hubs in Guadalajara, Mexico City, and Tijuana, as well as focus cities in Cancun, León, and Monterrey. It is the country's second-largest airline after Aeromexico. Currently, Volaris Airlines is the major airline in Mexico after Aeromexico and has more than 200 flights daily.
What is the travel class of Volaris Airlines?
Volaris Airlines has an Economy Class cabin for now only.
Volaris Airlines Economy Class –
Volaris, a low-cost airline based in Mexico, offers an Economy class cabin on all of their flights. The seating is arranged into three rows of three seats each, with the first few rows giving premium seating with more legroom. The dimension of regular seats is 18" (46 cm), and the seat pitch is 28-32" (71 cm-81 cm). You can access magazines and newspapers during flights. You can order light refreshments like sandwiches and drinks, but you must pay for them.
What is the baggage policy of Volaris Airlines?
Volaris Airlines Carry-on Baggage Policy
Domestic Flights
Two standard carry-on bags are allowed in Vuela Basic, and their combined weight should be 22 pounds (10 kg), and their dimensions 22 x 16 x 10 inches each.
Two large carry-on bags are allowed in Vuela Classic, and their combined weight should be 22 pounds (10 kg), and their dimensions 22 x 16 x 10 inches each.
For international flights
For Vuela Basic passengers, one personal item should be no more than 14 x 18 x 8 inches.
For Vuela Classic passengers, one personal item with one large carry-on bag and one carry-on bag weighing 22 pounds (10 kg), and one personal item measuring 14 x 18 x 8 inches.
For Vuela Plus, two large carry-on bags, one personal item (14 x 18 x 8 inches), and two big carry-on bags with a total weight of no more than 22 pounds (10 kg) each are permitted.
It is general for all Volaris passengers and permits two carry-on bags on all reservations for various rates and destinations. Make sure your bags do not weigh more than 22 pounds or 10 kilograms combined. The dimensions of each bag should be within the limit of 22.4 x 15.7 x 12.9 inches. Your handbags, wallets, and/or purses are considered personal items, and you can carry them without paying the airlines. These things are not allowed to be utilized as a container for anything that would typically be considered to be luggage.
Volaris Airlines Checked Baggage Policy
A single checked bag's maximum linear dimensions, including handles and wheels, are 68 linear inches (158 cm) or 55 pounds (25 kg).
For Vuela Basic cabins, no checked baggage is included in the airfare. If you have, then pay the airline. Same as for Vuela Classic passengers.
Vuela Plus passengers can travel with one checked bag of 55 pounds or 25 kg.
What is the check-in process for Volaris Airlines?
Volaris Web Check-In
Passengers can now do web check-in by using the Volaris web check-in facility. After online checking-in, passengers who have boarding cards printed from the self-service kiosks or the web must drop off their bags at the baggage drop counters before going through security. It is open between 72 hours and 1 hour for domestic and 24 hours to 1 hour for international flights.
Volaris Mobile Check-In
The check-in process is much easier with Volaris Mobile passengers should download and follow the instructions to do mobile check-in. Once mobile check-in is completed go to the airport. Submit your luggage, and the airline will validate your travel. It is open 24 hours before the flight.
Airport Check-in
Airport check-in is available at all Volaris Airlines destination airports. Make sure you arrive 2 or 3 hours before your flight. Once check-in is done, print your boarding pass.
How to Do Volaris Airlines Reservations Online?
Booking Volaris Airlines flights is easier. Follow these simple steps and book your seat. If you are looking for instant Volaris Airlines reservations, pick up your mobile phone and dial our toll-free number.
Visit our website.
Search for your flight by using the flight search box.
Put the destination and arrival airports with the Date of travel and passenger count
Get the best flight deals offered by them.
Put passenger and payment details here.
Once payment is confirmed, you will get a confirmation email to the id provided.
Frequently Asked Questions about Volaris Airlines Flights –
What is the main destination of Volaris Airlines?

Volaris Airlines flies to Mexico, the US, Costa Rica, Guatemala, and El Salvador. There are 43 domestic and 22 international destinations served by Volaris Airlines.

How many passengers can do online check-in at once?

No more than nine passengers are allowed to do Volaris Airlines' online check-in at once.

Should I pay for extra luggage on Volaris Airlines?

Yes, if you have extra luggage by weight or dimension, you must pay extra to Volaris Airlines as per their baggage policy.

What is the cancellation policy of Volaris Airlines?

If you cancel your flight within 24 hours of booking, you will get a full refund; otherwise, airlines will deduct money per their rules.

Where to Book Last Minute Volaris Airlines Flight Deals?

To get last-minute Volaris Airlines flight deals, you can visit our website.
Inquiry
Leading online travel services provider
24X7 customer care helpline
Assured lowest prices and superior service experience
Access best flight options across all popular routes