Book Singapore Airlines Flights

24/7 Support
Available 24/7 to help
Secure Booking
Easy & Convenient Booking
Best Price Deal
Best Deals on Packages
24/7 Support
Available 24/7 to help
Secure Booking
Easy & Convenient Booking
Best Price Deal
Best Deals on Packages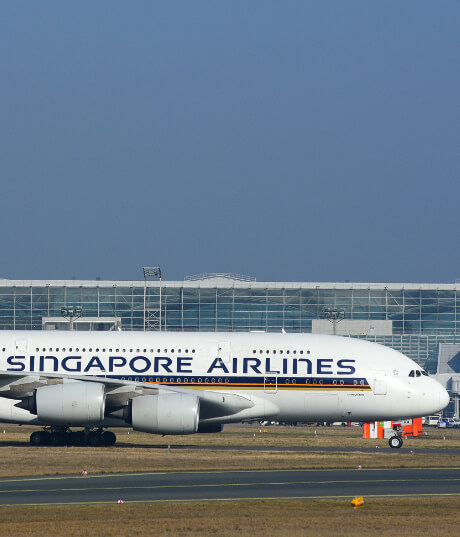 BookSingapore Airlines (SQ) Flights & Tickets with JustFlyCheap.com and Save Big!
Planning for an air journey? Book Singapore Airlines flights because traveling in Singapore is fantastic and memorable! Just Fly Cheap lets your service their trips with ease and lets them make Singapore Airlines reservations without hassles. Contact our professionals, who are on hand to provide you with immediate assistance and support. From providing the best advice on booking flights with Singapore Airlines to handling bookings and customer service. Our booking staff is available at all times.
About Singapore Airlines (SQ) –
Singapore Airlines is a prime airline in Singapore. There are many subsidiaries of the airlines, and some of them work in the aviation sector. They launched the Airbus A380, Boeing 787-10, and Airbus A350-900 for passengers. Singapore Airlines ranked in the top ten in terms of passengers and the top fifteen airlines in the world in terms of revenue. The 2019 Skytrax World's Best Airline Cabin Crew award goes to Singapore Airlines. The airline also took second and fourth place, respectively, in the categories of the world's best airlines and the world's cleanest airlines in 2019. Currently, they have more than 145 aircraft and fly to more than 130 destinations worldwide. It is noted that Singapore Airlines offers the best in-flight service.
What is the travel class of Singapore Airlines?
Singapore Airlines has four categories of travel classes.
Singapore Airlines Economy Class –
Singapore Airlines offers three different seats for economy class. Their Airbus A380-800, Airbus A330-300, and Boeing 777-300ER have one type; the A350 and retrofitted Boeing 777-300ER have a second type; and the Airbus A350, A380, and Boeing 787-10 have the last one. You can access a 10.6-inch LCD, an amenity kit, a manageable headrest, extra leg space, charging points, and complimentary food and beverages.
Singapore Airlines Premium Class –
The premium class of Singapore Airlines enjoys privileges in check-in and boarding. 13.3 full HD touchscreen for entertainment; complimentary snacks and beverages; personal storage space; amenity kit; Wi-Fi Seats are adjustable and extra legroom for comfort.
Singapore Airlines Business Class –
Singapore Airlines has one of the best business-class services in the world. You can enjoy their priority in check-in and boarding with the best lounge service. You can request complimentary snacks with your beverage, a lie-flat bed, noise-canceling headphones with a 15.4-inch touchscreen HD display, and many other amenities while flying.
Singapore Airlines First Class –
It is the top cabin of Singapore Airlines and is available on a few aircraft only. You can enjoy all the business-class services, but LED is bigger. Book the Cook means food on pre-order. You can make a bed of your 35-inch leather seat to make your journey comfortable and personal for every passenger.
Singapore Airlines also offers suits to their VVIP customers. You can feel at home thousands of feet above the ground.
What is the baggage policy of Singapore Airlines?
Singapore Airlines Carry-on Baggage Policy
If you are an Economy or Premium Economy class passenger, you can carry one piece of hand luggage, which should not be more than seven kilograms.
Business and First Class passengers can carry two pieces of luggage, which should not be more than seven kilograms each.
Singapore Airlines Checked Baggage Policy
There are different criteria for checked baggage on Singapore Airlines. If you are traveling in Economy class, a maximum of 30 kilograms is allowed, whereas Premium Economy passengers are allowed to have 35 kilograms.
For business class passengers, the checked baggage weight should not be more than 40 kilograms, and first-class passengers can carry 50 kilograms of luggage.
If you are carrying more than the mentioned weight, you must pay the amount to Singapore Airlines.
What is the check-in process for Singapore Airlines?
Singapore Web Check-In
Singapore Airlines flyers can now check in online from the official site. The check-in window is open from 48 to 1.5 hours before the flight takes off. You can print your boarding pass too.
Airport Check-in
If you miss online check-in or want to do airport check-in, kindly visit the airport two or three hours early because there are many people in the queue waiting for their turn, and it takes time.
How to do Singapore Airlines Reservations Online?
You can make Singapore Airlines reservations in six simple steps. We have mentioned it below.
Visit our website.
Use a search engine to find your flights.
Choose your destination, travel date, and passengers.
Get your flight from the results below.
Fill in passenger and payment details here.
After the payment process is completed. Check your email for confirmation mail, and Singapore Airlines flight reservations are done.
Frequently Asked Questions about Singapore Airlines Flights –
What is the main destination of Singapore Airlines?

There are more than 70 international destinations in 32 countries, among which Amsterdam, Paris, Rome, Frankfurt, Copenhagen, New York, San Francisco, Seattle, Los Angeles, Auckland, Adelaide, and Sydney are the main ones.

How many passengers can do online check-in at once?

No more than nine passengers are allowed to do Singapore Airlines' online check-in at once.

Should I pay for extra luggage on Singapore Airlines?

If you have extra luggage in terms of weight and dimension, you must pay the legal amount to the airline. There is a fixed price which will be told by officials.

What is the cancellation policy of Singapore Airlines?

If you cancel your Singapore Airlines flights within 24 hours of making reservations, you can claim a full refund; otherwise, airlines will deduct money as a fee.

Can I Book Singapore Airlines' Last Minute Flight Tickets at Just Fly Cheap?

JustFlyCheap.com provides the best deals on flight booking. You can get the best deals on Singapore Airlines' last-minute flight tickets at an attractive price.
Inquiry
Leading online travel services provider
24X7 customer care helpline
Assured lowest prices and superior service experience
Access best flight options across all popular routes