Qantas Airlines Book Now & Save!

24/7 Support
Available 24/7 to help
Secure Booking
Easy & Convenient Booking
Best Price Deal
Best Deals on Packages
24/7 Support
Available 24/7 to help
Secure Booking
Easy & Convenient Booking
Best Price Deal
Best Deals on Packages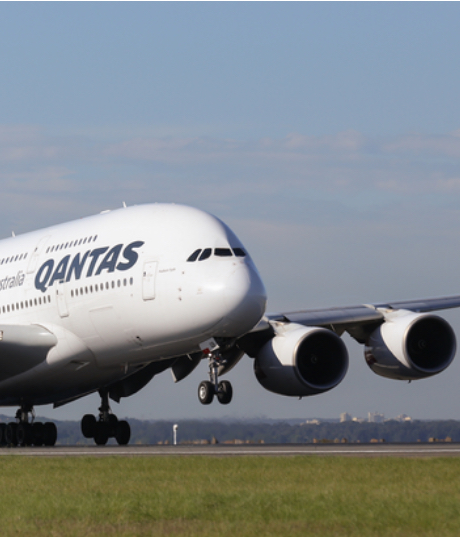 About Qantas Airlines (QF) Flights –
The national airline of Australia and the largest airline in terms of fleet size, international flights, and overseas destinations is Qantas Airways Limited. After KLM and Avianca, it is the third-oldest airline in the world, having been created in November 1920. The airline began its international passenger flights in May 1935, and it has the nickname "The Flying Kangaroo". Qantas is a founding member of One world (an airline alliance). The terms "QANTAS" stands for "Queensland and Northern Territory Aerial Services". The main hub of the airport is Sydney Airport and the suburb of Mascot, which is adjacent to the hub.
Classes of Services -
Economy class :
You always feel at home when you are flying with us. Once you choose Qantas as your carrier, you get the privilege of its benefits. Some of them are in-flight dining options, your reclining seat, and a plethora of entertainment options. It does not matter whether you are traveling on a domestic or international flight the friendly crew of Qantas airways will look after you. On the saver and flex fares, you get a complimentary seat selection. You always get refreshed cabin interiors and seats.
Premium Economy class :
Premium Economy offers you luxurious levels of space and attentive service. You will enjoy all the benefits of flying premium class and be seated in a private cabin. In addition, you get dedicated check-in and priority boarding. You get a refreshed menu, and an extensive wine list, with well-designed and luxurious seats.
Business class :
To make passengers' journey memorable. Qantas offers maximum comfort and ultimate style. Overall, you may look for a superior way to fly. That is where the business class of Qantas Airways comes into the picture. It provides more space to relax, a dedicated cabin, fine dining, and lounge access. The seats do convert into fully flat beds in selected aircraft. You will be provided with the most delicious meals containing the freshest seasonal ingredients.
First class :
If you really want to define the first class of Qantas Airways, the only word that comes to your mind is an unsurpassed luxury. You are allowed to relax in one of our stylish lounges before the flight. You will be provided with a spacious environment. In which to settle in and stretch out once onboard. Overall, an unmatched level of comfort and services will be provided to all the first-class customers.
Qantas Baggage Policy -
Checked baggage:
Baggage is included in every Qantas fare. Your itinerary determines your included checked luggage allowances, which are stated when you make your reservation. A single item may not weigh more than 32 kg (70 lb). Each piece's dimensions must be larger than 158 cm (62 inches). The dimensions of a piece of checked baggage are determined by adding the size of the item's width, height, and depth.
Carry-on baggage:
To ensure your travel is comfortable and safe. Your carry-on baggage must comply with our requirements for carriage.
Your carry-on baggage must :
Fit under the seat in front of you or in an overhead locker (musical instruments included).
Do not exceed the carry-on baggage allowances.
It does not include any dangerous goods unless permitted for carriage.
In-flight amenities -
We include a wide variety of multi-cuisine replicas and delicious eatables to satiate the palates of all the travelers on Qantas. We also ensure that the flight meals and beverages on all of our domestic and international flights are of the highest quality possible.
We also take care of your entertainment on all long-haul and short-haul flights. They are well equipped with a lot of television shows, movies, and music. Our planes are well-equipped with broadband internet connections, so you can surf the web even when you're flying high above the clouds. The speed of the internet is fast no time limit.
Check-in options -
Online check-in:
An online check-in option is available 24 hours before the flight departure. Passengers can print the boarding pass or keep it on their mobile phones.
Mobile check-in:
The option for mobile check-in is available 24 hours before the flight departure. You have to download the application from the Android or Apple store. You will have to fill in a few details, and after that, you can make the check-in through your mobile application.
Check-in at the airport:
Self-serve kiosks are available for flights within Australia, where your boarding pass and bag tags can be printed. We have our support staff available at the airport in case you need it.
Frequently Asked Questions –
How many destinations does Qantas Airways fly to?

52 cities in Australia, 28 in the Asia-Pacific area, 11 in each Europe and North America, 2 in South Africa, and 1 in the Middle East are served by Qantas flights.

Can I get a full refund on Qantas Airways flight tickets?

If you have canceled your booked flight tickets within 24 hours, then the airline will provide a full refund. After that threshold time, you must pay the airline.

Can I book Qantas Airways flight tickets online?

To book online flight tickets, you must visit Qantas Airways' official site, and fill in the details, then click on search. Select a flight and enter the passenger(s) and payment information.

Does Qantas fly to the USA nonstop?

Currently, Qantas Airways flies to Los Angeles and Dallas non-stop. You can take flights to other major destinations in the USA as well.

How to cancel my booking of Qantas Airways tickets?

You can cancel your flight tickets in the "Manage My Booking" section of the website. Or call the customer service team to cancel your trip.
Inquiry
Leading online travel services provider
24X7 customer care helpline
Assured lowest prices and superior service experience
Access best flight options across all popular routes