Japan Airlines Book Now & Save!

24/7 Support
Available 24/7 to help
Secure Booking
Easy & Convenient Booking
Best Price Deal
Best Deals on Packages
24/7 Support
Available 24/7 to help
Secure Booking
Easy & Convenient Booking
Best Price Deal
Best Deals on Packages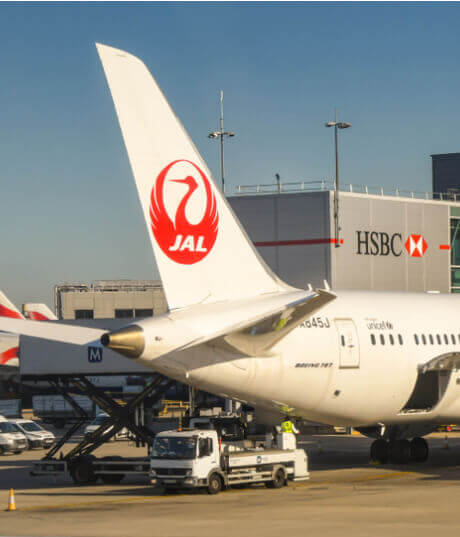 About Japan Airlines (JL) Flights –
Japan Airlines JAL, or Nikko, is a major airline in Japan. It was established on August 1, 1951, by the government of Japan to bring in a reliable air transportation system that would help Japan grow economically. The headquarters of Japan Airlines is situated in Shinagawa, Tokyo. The airline's main hubs are Tokyo's Narita International Airport and Haneda Airport, the secondary hubs are Osaka's Kansai International Airport and Itami Airport. The airline serves 33 international destinations in Asia, the Americas, Europe, and Oceania. While with the JAL group has a staggering fleet of 279 aircraft and flies to 220 destinations in 35 countries across the globe. It is also a member of the One world airline alliance.
Japan Airlines Cabin -
Economy Class :
The award-winning economy class seats have increased seat pitch with a configuration of 3–4–2 seating style. It featured a hammock-style headrest that supports adjustable movement and comfort ability. On personal seatback screens, economy class passengers can enjoy a wide variety of entertainment, including the latest movies, songs, and games. The airline provides sumptuous meals in this class. For complement meals, you will be served Japan Airlines' original wines.
Premium Economy Class :
The seats in this category emphasize functionality and privacy. It offers a relaxing seat pitch of 97 cm and a recline without leaning too much backward and shrinking your personal space. The seats are also equipped with leg rests to footrests, a large table, power sockets, a center console, and an adjustable reading light. A large 9-inch screen on the seatback provides in-flight entertainment like the latest movies, music, and games. Excellent meals designed by the famous chef are served one hour after take-off. The airline serves a variety of beverages onboard to complement your meal in this class.
Business Class :
Many business class seats are available, including the Jal Skyrecliner, Jal Sky Suite, Jal Sky Suite II, Jal Sky Suite III, Jal Shell Flat seat, Jal Shell Flat Neo, and Jal Skyluxe Seat. These seats are available depending on the routes and types of aircraft. The seating feature of business class is good. It offers extra recline and space. They are convertible to fully flatbed. The business class offers mouth-watering dishes from cuisines, including Japanese and Western. A wide range of wines is served in business class to complement your meals.
First Class :
Japan Airlines offers a peaceful sanctuary in its first class. The seats combine the luxury of the wood-grain interior with excellent functionality. The seats are 58 cm wide, the maximum bed width is 84 cm, and the length is 199 cm with a personal 23-inch screen. First-class serves the best quality meals. Which are prepared by world-class chefs, and the cuisines vary from Japanese to western. During your journey, it lets you enjoy in-flight entertainment like movies and videos, a wide range of music, games, and e-books.
Japan Airlines Baggage Allowance -
Carry-on Baggage Allowance :
Passengers allow bringing one personal item, such as a shopping bag or handbag, etc., and one carry-on item on board. The weight of the bags should not exceed 10 kg or 22 lbs. The maximum dimension of the carry-on bag is restricted to 55 cm x 40 cm x 25 cm, or 22 in x 16 in x 10 in. If your baggage is oversized or overweight, or if you are not able to stow the bag in the overhead space, you need to check the bag at the boarding gate.
Checked Baggage Allowance :
If you are a first-class or business-class passenger, you are permitted to check 3 pieces of baggage weighing 32 kg (70 lbs.) per bag. Premium Economy and economy class passengers are allowed to check 2 pieces of baggage a total of 23 kg (50 lbs) per bag. The maximum dimension of the checked bag must be no greater than 203 cm, including wheels and handles. In the case of an infant traveling in his or her own seat, a baggage allowance applies.
Japan Airlines Check-in -
Online/Web check-in :
Japan Airlines online or web check-in starts 24 hours before and closes 1 hour before the flight departure time. To online check-in, you need to access the official site either on your PC or mobile and can select your preferred or change your pre-selected seat. After check-in, you can print your boarding pass or save it on your mobile phone.
Airport Check-in :
Apart from the above option, you can also check in at the airport check-in counter or at the self-service check-in kiosk. However, kiosk check-in is limited to some selective airports.
To avail of excellent deals on Japan Airlines flight tickets. Get in touch with JustFlyCheap.com. We are available round the clock at your service to provide you with cordial assistance and a hassle-free booking experience.
Frequently Asked Questions –
Does JAL Airlines fly to the US?

JAL airlines fly to New York, San Diego, and San Francisco. Apart from those, Boston, Chicago, Dallas, and Honolulu are the major destinations of the airlines.

Can I make changes to JAL Airlines flight tickets?

You can make changes to your flight via the "Manage My Booking" option available on the website. Kindly go through with it because some charges are not free.

How to do an online JAL Airlines online booking?

To book online flight tickets visit the official site of Japan Airlines or call officials. They will help to book Japan Airlines Flight Tickets.

Can I upgrade my JAL flight tickets?

Passengers can upgrade flight tickets, they must pay the fee difference between the classes. To know about the upgrade policy contact officials.
Inquiry
Leading online travel services provider
24X7 customer care helpline
Assured lowest prices and superior service experience
Access best flight options across all popular routes