Emirates Airlines Travel Like a Royal

24/7 Support
Available 24/7 to help
Secure Booking
Easy & Convenient Booking
Best Price Deal
Best Deals on Packages
24/7 Support
Available 24/7 to help
Secure Booking
Easy & Convenient Booking
Best Price Deal
Best Deals on Packages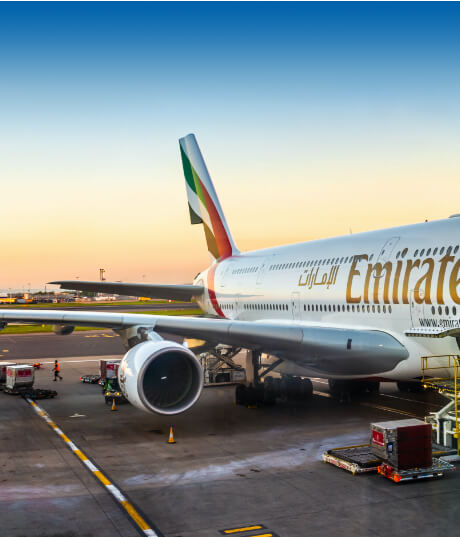 About Emirates Airlines (EK) Flights-
As far as the world-renowned airlines are concerned, Emirates tops the graph with several other airlines, recognized all over the world for their top-notch services. Located in Al Garhoud, Dubai, United Arab Emirates it is the Middle East's leading airline, serving more than 3,600 flights a week. Dubai International Airport hub for more than 158 cities in 85 countries across six continents. The company is also the fourth biggest carrier in terms of passenger-flying scheduled flights operated and revenue generated. To provide quality services to its passengers. This assists the company in developing and establishing itself as a brand in its international portfolio. For Emirates Reservations, you can contact the airlines to get full support for booking on what offers and deals are available on your bookings.
Emirates Baggage Allowance -
Carry-on Baggage Allowance :
Passengers are permitted to carry one personal item and one checked item.
The maximum size for Business and First Class passengers is 45 x 35 x 20 cm for a briefcase or laptop bag and one handbag; 55 x 38 x 20 cm.
The maximum bag size for Economy Class passengers is 55 x 38 x 20 cm.
The maximum weight of the bag should be 7 kg or 15 lbs.
Checked Baggage Allowance:
Travelers in the special economy class can carry a maximum weight of 15 kg. It should not be more than 20 kg for economy saver passengers.
Customers of the business class are permitted to carry up to 40 kg, while passengers of the first class are allowed to carry 50 kg.
Passengers in the Flex Class are permitted to carry 30 kg, and Flex Plus passengers are allowed to carry up to 35 kg.
Emirates Classes Of Service -
The airline strives to improve the passengers' in-flight experience while they fly with the airline. The Emirates is known for its unparalleled services that no other airline can deliver. Traveling with Emirates is always a pleasant experience, regardless of the flight level.
Emirates First and Business Class:
The travelers are ensured with all forms of comforts and luxury. The flyers are allocated in this class with adjustable reclining seats that can transform into a completely flat bed. The toiletries and spa items will be given to Passengers along with exclusive shower spa services. Passengers will also be supplied with a private mini-bar, an à-la-carte menu, and a delicious healthy meal choice for an unforgettable onboard dining experience. Travelers in First or Business Class will binge on board in the beautiful lounge.
Emirates Economy Class :
Emirates Airlines flyers from Economy Class can stay connected to the world when traveling on board with its unlimited internet services. Passengers are also served delicious meals, along with comfy seats, which are cooked by skilled chefs. To children the airline provides a flying Camera channel, Disney channels, cartoons, and much more. Passengers will be able to enjoy the multimedia widescreen system that involves movies, sports, audio channels, and TV shows. For bookings related to classes and check-in, get in touch with Emirates Reservations.
Emirates is one of the luxury airlines for travelers, and everyone should travel once to experience it and enjoy it to the full extent for a memorable journey. For more information, you can call the Emirates Reservations department and get your queries solved.
Check-in options
Online Check-in :
Passengers can do online check-in from Emirates Airlines' official site. They can print their boarding pass from here. This service is available for e-ticket passengers from 48 hours to 1.5 hours before takeoff on their flight.
Check-in at the airport counter :
If you want to check in from the airport, ensure you are there 3 hours before your flight. After check-in, go to the boarding area for 35 to 40 minutes.
Emirates Airlines only offers self-service and home check-in to Dubai City.
Frequently Asked Questions –
Can I book Emirates Airlines tickets online?

To book online flight tickets, go to the official site of the airlines or call the Emirates Airlines booking team. They are available round the clock to help their customers.

Can I travel with my pets on Emirates flights?

Can I check in with the mobile app?

Yes. You can use the Emirates Airlines official app to check in and print your boarding pass.

Can I get a refund for non-refundable Emirates airline tickets?

If you want a refund for non-refundable Emirates airline tickets. Then you must cancel your reservation within 24 hours of booking.

Can I cancel my tickets on departure day?

Passengers can cancel their flight tickets on the day of the journey, but airlines charge cancellation fees for them. So, read its cancellation policy carefully.

How much time does Emirates Airlines take for Emirates Airlines to refund?

Airlines initiated the amount within 7 to 10 days. If you have not received it within a given time, then contact the customer service team.
Inquiry
Leading online travel services provider
24X7 customer care helpline
Assured lowest prices and superior service experience
Access best flight options across all popular routes