Allegiant Airlines Book Now & Save!

24/7 Support
Available 24/7 to help
Secure Booking
Easy & Convenient Booking
Best Price Deal
Best Deals on Packages
24/7 Support
Available 24/7 to help
Secure Booking
Easy & Convenient Booking
Best Price Deal
Best Deals on Packages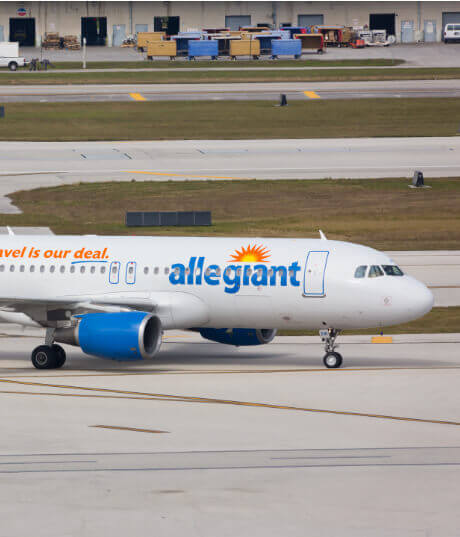 About Allegiant Airlines (G4) Flights –
Allegiant Airlines is a minimal-cost U.S. airline providing several frequent and chartered flights to famous American destinations. The carrier offers the passengers excellent in-flight facilities, and this is possibly why Allegiant Airlines has become a favorite airline among United States flyers. The airline offers a lot of deals and discounts, and visiting the Allegiant Airlines Official Site will be sure that they get you the best benefits and maximum facilities. It takes a lot of effort to compare and pick the best deals for your flight reservations. If you book tickets via the Allegiant Airlines reservations department, the experts ensure that the travelers are availing of the best deal.
How To Get The Low-Cost Plane Tickets Of Allegiant Airlines?
Allegiant Airlines is a US-based airline particularly committed to providing quality services and caring for America's working and middle-class citizens. The drawback is that Allegiant is running a thin schedule so that their airport counters are only available each week for a quite limited amount of time. So, if that works according to your plan, it might be worth it. And if you travel as a family, it could quickly add up towards those savings.
To book Allegiant Airlines Flight tickets Contact Our Booking team at given toll-free number and save big!
When Is The Best Time To Book Allegiant Airlines Flights?
Plan your trip as far ahead of time as possible. According to the FAQ on their website, Allegiant unveils its upcoming schedule six to nine months in advance, making this the cheapest time to buy. You can already find $29 flights for both departure and arrival choices if you know your itinerary in advance. If you require assistance with the related flight booking, you can contact Allegiant Airlines Reservations.
Allegiant Airlines Baggage Policy –
1 FREE Personal Item
Size maximum: 17.8 cm x 38.1 cm x 40.6 cm
7 inches by 15 inches by 16 inches
It should be under your front seat, please.
For example, A purse, small backpack, or a briefcase.
ONE PAID Luggage (Optional)
Size 22.9 cm x 35.6 cm x 55.9 cm maximum
9 inches by 14 inches by 22 inches
Weight limit Unknown; must fit in the overhead bin.
Example: a roll-aboard, tote bag, or a garment bag
Why Should You Buy The Tickets From Allegiant Airlines' Official Site?
If you're within a quick drive of your nearest airport, this little-known trick will enhance your savings. Make your flight booking from the airport in advance; you can save $13 in fees for each flight, which adds up as taxes on the booking. Simply book your flight with the allegiant personnel at their terminal to remove the charge for tax. Make sure you look through their flight schedules before heading over and expect to show up 2-3 hours before the actual flight, so you do not try to book as people check-in.
How Can I Get Allegiant Airlines Flight Updates?
You can sign up for the Allegiant Airlines newsletter for price alerts and the best offers on flights. You never know when the prices will fluctuate to a lifetime deal, and you might get lucky to get it at any time. You only get notifications when there is a significant change in prices on flights. If you need further information regarding the flight fares. You can always check the American Airlines official site.
Looking for the best flights and the lowest fares? You have come to the right place. Allegiant Airlines has amazing fares for the middle-class and working class. The airline has one of the best services on-air and promises to deliver the best services to its flyers on board. You can always book your flights on the Allegiant Airline Official Site to get amazing offers for your flights.
Frequently Asked Questions –
How many destinations are covered by Allegiant Airlines?

The airline covered 130 Destinations.

How to Cancel Allegiant Airlines Tickets?

If you want to cancel your allegiant airlines flight booking, then go to the allegiant airlines official site and follow the path to cancel, otherwise, contact them at their given toll-free number.

Can I book Allegiant Airlines flight tickets online?

If you want to book Allegiant airline tickets online, visit their official site, search for your destination with the date and follow the booking process.

How to make changes to booked airline tickets?

To make changes in your flight journey, you should visit manage booking section or call the customer service of Allegiant Airlines.

Can I do online check-in for Allegiant Airlines?

You can do online check-in 24 hours before the flight journey.

Can I make a group reservation with Allegiant Airlines?

Yes, of course. Up to 9 bookings can be done with one itinerary. To do more, either call the airlines or make them separate.
Inquiry
Leading online travel services provider
24X7 customer care helpline
Assured lowest prices and superior service experience
Access best flight options across all popular routes