Air China Airlines Book Now & Save!

24/7 Support
Available 24/7 to help
Secure Booking
Easy & Convenient Booking
Best Price Deal
Best Deals on Packages
24/7 Support
Available 24/7 to help
Secure Booking
Easy & Convenient Booking
Best Price Deal
Best Deals on Packages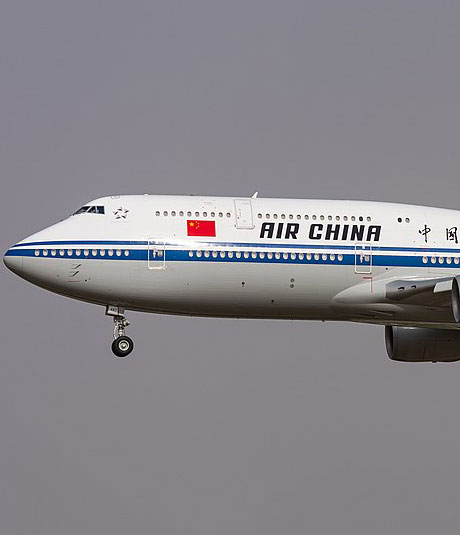 About Air China Airlines (CA) Flights –
Headquartered in the Shunyi District of Beijing, Air China (CA) is recognized to be the flag carrier of the People's Republic of China. Moreover, despite having two main hubs in Chengdu and Shanghai, the primary hub of Air China is at Beijing Capital International Airport. Inclusive of approximately 130 domestic routes, 30+ international routes, and a few other regional routes, Air China lets you travel the world at your level of comfort and luxury. Air China is a member of the world's largest global airline alliance, SKY Alliance, and flies to several domestic and international destinations daily. Flying with Air China is always a memorable experience.
Baggage Allowance -
Carry-on Baggage :
Carry-on baggage allowance for first class or business class passengers is two pieces weighing up to 8 kg each. Economy class passengers can only bring one piece of carry-on luggage weighing no more than 8kg. Each piece of carry-on must be no larger than 55 x 40 x 20 cm (22 x 16 x 8 in).
Checked Baggage :
The checked baggage allowance is one piece for both economy and business class. However, the weight limit for the former is 23 kg and 32 kg for the latter.
How to Get the Best Deals on Air China Flight Tickets?
Airlines announce flight deals frequently, but you should either follow their social media accounts or subscribe to their newsletter and check it. However, if you go to JustFlyCheap.com, you can get the best flight deals without extra work. We have skilled travel experts. They are committed to booking affordable flight tickets for our passengers.
Air China Cabin Option –
Air China Economy Class :
It is the basic class of Air China, and you can get good service at a reasonable price. It offered basic amenities such as seat pitches and average leg space. A wide variety of Chinese and western meals are served, and the onboard catering is satisfactory. Hot meals are served. It depends upon the length of the journey.
Premium Economy Class on Air China :
Air China Premium Economy class passengers enjoy great comfort and are no less than first-class passengers. The seats are more comfortable than you could ever expect, and you will enjoy the in-flight entertainment. From a wide range of music to innumerable options for snacks and drinks, passengers do have a gala time here.
Air China First Class :
The first class passengers of Air China enjoy complete privacy in flight. With cozy suites for first-class passengers and extra-comfortable reclining seats for all passengers. It seemed that no one would ever face any hassles onboard. With meals perfectly delicious and mouth-watering, you will surely enjoy your traveling experience with Air China.
Air China Business Class :
Airlines provide the best business class service to their passengers. If you are a business class passenger. Moreover, airlines provide a complete package of entertainment and basic amenities. To make you feel refreshed even after a long journey. Delicious food, cozy seats, extra leg room, and excellent carrier in-flight service.
Entertainment:
Passengers are provided with LED monitors to enjoy music, videos, movies, and sitcoms. Movies by renowned directors are available as well. You also get newspapers and magazines to keep yourself intrigued throughout the journey.
Meals:
A wide array of rotational menus for hot meals and snacks served to the passengers. Specialized meals on request are also served to the passengers. Beverages and alcohol are also served to passengers to let them enjoy the journey to the fullest.
Air China Check-in –
Web Check-in:
Air China passengers also enjoy the benefit of web check-in, which means instead of standing in a long queue, one can complete the check-in procedure online. And, by taking out the boarding pass, one can directly go to the departure gate. But, you should be aware that you can complete the web check-in process 24 hours to 45 minutes before departure.
Mobile Check-in :
Air China provides mobile check-in facilities to its passengers to save time and avoid waiting in long queues at the airport. You can check in with your mobile phones. Go to the official app and follow the necessary steps to complete it.
Self-Serve Kiosk Check-in at Airport :
Passengers can check in at the respective airport. However, they must have arrived early to complete the check-in process. Some passengers cannot make it to online or mobile check-in. So, you do Self-Serve Kiosk Check-in at the airport.
Frequently Asked Questions –
Can I select my seat with Air China Airlines?

Air China provides a seat selection feature to its passengers while booking. And they can pay for an extra baggage allowance.

Does Air China charge for excess baggage?

You must pay for extra bags you are traveling with 1.5 percent of the announced one-way Economy adult fare. You will be charged extra for any bags that are too big, too bulky, or exceed Air China's permitted baggage allowance when traveling internationally.

How to book online Air China flight tickets?

To make online reservations, you can go to the official site, fill in all your travel details, and book it. If you want to avoid any errors and save time, then call our booking agent.

What are the famous destinations in Europe and the USA for Air China?

Houston, Los Angeles, Newark, New York (JFK), San Francisco, and Washington are famous destinations for Air China in the USA.

Athens (Greece), Düsseldorf, Munich, and Frankfurt (Germany), London (UK), Madrid (Spain), Milan (Italy), Moscow (Russia), Paris (France), Rome, and Stockholm (Sweden) are among the cities represented.
Inquiry
Leading online travel services provider
24X7 customer care helpline
Assured lowest prices and superior service experience
Access best flight options across all popular routes