Aeromexico Airlines Book Now & Save!

24/7 Support
Available 24/7 to help
Secure Booking
Easy & Convenient Booking
Best Price Deal
Best Deals on Packages
24/7 Support
Available 24/7 to help
Secure Booking
Easy & Convenient Booking
Best Price Deal
Best Deals on Packages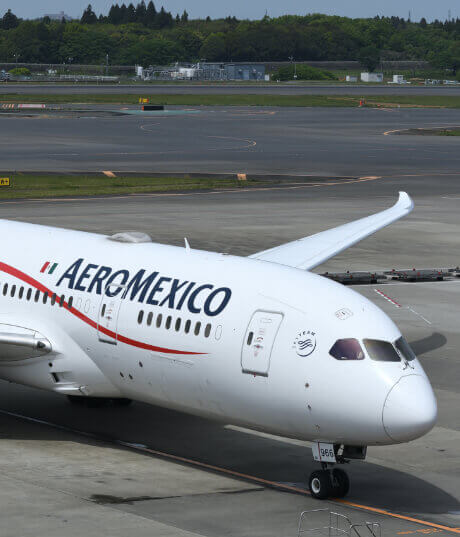 About Aeromexico Airlines (AM) Flights –
Get immersed in the world of fantabulous services of Aeromexico, Mexico's premium and flag carrier. The airline is headquartered in Mexico City and has flights to 93 destinations globally, spanning the continents of North and Latin America, Central America, Europe, and Asia. The main hub for Aeromexico is at Mexico City International Airport, and the secondary hub is in Guadalajara and Monterrey. Aeromexico covers major domestic and international airports with a fleet of 103 aircraft. Apart from the above, the airline has a codeshare agreement with 15 international airlines, including Delta Airlines, Air France, Air Europa, etc.
Aeromexico's Baggage Policy -
Carry-on Baggage Policy:
Aeromexico permits one standard carry-on bag and one personal item, such as a purse or a laptop bag. The maximum dimension for the personal item is 21.5 x 15.7 x 10 inches or 55 x 40 x 25 cm. The maximum weight allowance is 22 lbs or 10 kg for both bags combined.
Checked Baggage Allowance:
The maximum allowed dimension for a checked bag must be less than 62 linear inches (158 cm). And the weight allowance for Clase Premier is 32 kg, or 70 lbs per bag, while it is 25 kg or 55 lbs per bag for other classes.
Aeromexico Seating Options -
Aeromexico Classe Premier :The class provides excellent service, which is synonymous with the same as regular first class on US domestic flights. Mostly, the Aeromexico cabin features significantly reclining and comfortable seats with extra legroom and footrests. Passengers in this cabin enjoy premium services like complimentary meals and beverages with access to a wide range of in-flight entertainment like movies, music, and TV shows.
Aeromexico Business Class : Aeromexico's business class cabin is available on the 787-9 aircraft, which contains 36 seats separated. The airline provides unmatched comfort and state-of-the-art services like complimentary meals, beverages, and in-flight entertainment to its business class passengers. They also get priority services at the airport on checking in for flights, boarding the aircraft, and getting baggage after arriving at the destination.
Aeromexico Plus : The Premium Economy cabin of Aeromexico is branded as AM Plus. The seats of AM Plus feature extra legroom, leather headrests, and an additional recline compared to economy class. The services in the cabin include fresh meals accompanied by beverages and access to a wide range of in-flight entertainment.
Aeromexico Economy Class: Aeromexico economy class includes 121 standard seats in a 3-3 configuration, and each seat features a 17-inch width and a 31-inch pitch. Some seats offer extra legroom, which can be reserved before check-in against some payment or free of charge during check-in for the flight. The cabin serves complimentary drinks and a wide array of entertainment to all the passengers.
What is Aeromexico Hubs?
Mexico City International Airport.
Guadalajara International Airport
Monterrey International Airport
Aeromexico Check-in Options -
Web or Online Check-in : Aeromexico online or web check-in opens 24-48 hours and closes 2 hours before the flight departure time. For online check-in, you need to access the airline's official website on a computer or a mobile browser. During online check-in, passengers can view the seat map and select their preferred seat. However, the selection depends on the availability and the airline's seating policy.
Mobile Check-in : Apart from online check-in, you can also download the app and check in from your mobile phone. It is also a hassle-free option for you. Mobile check-in opens 24–48 hours before the flight departure time. You can save the boarding pass on your mobile phone during checking in.
Airport Check-in Counter: If you do not have internet access or are facing any technical difficulties in online checking in. Then the airport check-in counter will help you check in for your flight. But the flip side of this option is you need to queue up at the airport.
Self-Service Kiosk Check-in : There are self-service kiosks available at selected airports. Which helps passengers with the check-in and printing of their boarding passes
You can easily avail Aeromexico flights at an affordable price to your preferred destinations. All you need to do is call the officials. They are available 24 hours a day, seven days a week.
FAQs Aeromexico Airlines –
What is a club premier?

Club Premier is the loyalty program of Aeromexico, and it is designed for frequent flyers. You can enjoy many of the airlines' facilities with club premier membership.

What is the international destination of Aeromexico?

Toronto, San Jose, Rome, Tokyo, Frankfurt, Shanghai, Amsterdam, Paris, London, Lima, Madrid, Atlanta, New York, Chicago, Atlanta, Dallas, and San Francisco are just a few examples. These are major international destinations for Aeromexico.

Can I make Online Reservations on the Aeromexico Website?

Yes. A passenger can make online reservations via Aeromexico Airlines' official site.

Are airline tickets expensive on online booking?

No. It is an assumption. Airlines tickets are not costly online. Although you can get deals on flight journeys if available,

Can I cancel my Aeromexico flight tickets?

If you cancel your flight ticket within 24 hours of booking airline will provide a full refund. They will charge a significant amount.
Inquiry
Leading online travel services provider
24X7 customer care helpline
Assured lowest prices and superior service experience
Access best flight options across all popular routes