Aeroflot Airlines Book Now & Save!

24/7 Support
Available 24/7 to help
Secure Booking
Easy & Convenient Booking
Best Price Deal
Best Deals on Packages
24/7 Support
Available 24/7 to help
Secure Booking
Easy & Convenient Booking
Best Price Deal
Best Deals on Packages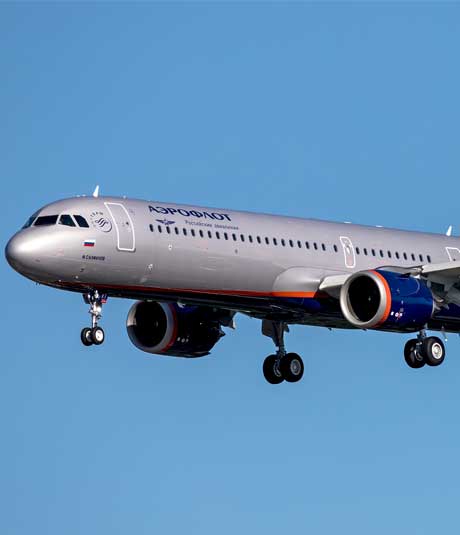 About Aeroflot Airlines (SU) Flights –
Aeroflot (SU) is Russia based commercial carrier. It is one of the most prominent airline service providers. It is one of the few oldest airlines providing reliable and credible service to its passengers. This is probably the best reason why referred to as Russia's Piller aviation authority. Flying to approximately 159 destinations across 54 countries, Aeroflot has been awarded several times for being the best airline in the world. There are many destinations that the airline covers in Europe as Vienna, Zurich, Istanbul, Amsterdam, and many more.
Aeroflot Cabin Option –
Business Class :
Aeroflot business class passengers also benefit from faster check-in for themselves and their luggage. They are decorated with VIP lounge services at the airport. Aeroflot and SkyTeam often offer bonuses to frequent flyers, and additional baggage allowances are also offered to business class passengers. They can also enjoy personal screens to enjoy a vast array of videos. You will provide a comfy kit consisting of necessary items like a blanket, pillow, slippers, travel kit, eye mask, and a few others.
Economy Premium Class :
Providing reclining, comfortable seats to the passengers is the top priority. Premium Economy Class passengers enjoy footrests and individual light. They would also get a USB port and a folded table for basic comfort on the journey. Even the comfort class passengers enjoy the Aeroflot Bonus program, where they can gain points on each flight booked with Aeroflot. And they can redeem those later on. The baggage allowance is also given to them. They have access to personal screens for watching videos. A travel kit with items like blankets, pillows, slippers, travel kits, and eye masks, is also offered to them.
Economy Class :
The economy class of Aeroflot Airlines is incredibly comfortable and interestingly spacious. One can enjoy an additional baggage allowance with the benefit of booking legroom. The seats are also quite comfortable and have the option of reclining. If someone is flying with kids, he or she would also get a children's entertainment kit, which includes games and coloring books. The Aeroflot Bonus program is also valid for economy class passengers, and they also get a cozy kit with items like a blanket, pillow, slippers, travel kit, and eye mask. Same as Premium economy class, screens are given to all to enjoy videos on demand.
Meals :
Aeroflot passengers enjoy a fine dining experience onboard. And they are provided with actively rotating menus. The airlines promise their passengers hygienically preserved food. Comfort and Business Class passengers can enjoy food prepared by famous chefs.
How to Book Flight Tickets at a Reasonable Price?
Getting pocket-friendly flight tickets is not a cup of tea. You must follow the newsletter and social media channels to get the best deals. But we, at JustFlyCheap.com, deliver flights deals right to your door. You need to search and book your flight tickets from our website. Or, get in touch with our booking team, and they will make your travel affordable.
Get in contact with representatives to learn more about the Aeroflot's greatest specials and offers and to plan an affordable and memorable trip. Plan your journey and reserve a seat.
Aeroflot Check-in –
Web check-in :
Web check-in facility provided to passengers where they can perform the check-in formalities from anywhere online. By printing the boarding pass beforehand, you can directly proceed to the departure gate after the security check. However, you must know that web check-in can happen 24 hours to 45 minutes before departure.
Mobile Check-in :
Passengers can download the mobile app of the airline to make mobile check-in. It is available 24 hours before the flight, and they can also download their boarding pass from here.
Self-Service Kiosk at the Airport :
You can use the kiosk at the airport to complete the check-in process. You can find a kiosk machine at airports and use your passport or last name with a booking reference number.
Aeroflot Baggage Policy –
Carry-on baggage :
If you are an economy or premium economy class passenger. Then they are allowed up to 10 kg, whereas for business class, they can take up to 15 kg. The dimensions of the bag should not be more than 55*40*25 centimeters.
Checked Baggage :
Aeroflot gives you an incredible baggage allowance for passengers. While the economy class passenger can carry checked-in baggage weighing up to 23 kg. The business class passengers can carry up to 32 kg. The dimensions should not exceed 158*158*158 cm.
The passenger would be responsible for paying the overweight baggage fees. It is not fixed and depends on the route.
Frequently Asked Questions –
Does Aeroflot provide a seat selection policy?

Now, passengers can choose a seat as per their choice, but it is not free of cost. Kindly ask the reservations agent before picking up.

Can I travel with my pet on a flight?

Passengers can travel with their pets on Aeroflot flights, but there are some policies that they must follow.

How to cancel Aer Lingus flight tickets?

To cancel your flight ticket, you must fill out a refund request form or get in touch with officials via the toll-free number given on the website.

How to make an online Aeroflot flight booking?

There is a simple flight booking process for Aeroflot airlines. You should visit the official site. Either contact the reservations team or do it yourself. For the best deals, visit JustFlyCheap.com.

What is the cancellation policy of Aeroflot?

You can cancel your flight ticket within 24 hours of booking. Then the airlines will provide a full refund, but it must be booked more than seven days earlier (this is applicable for USA customers only). To read it in detail, visit the official site.

Can I change the name on Aeroflot airline tickets?

You can modify it if you have documents with the correct name. It must be legit.

Where to check Aeroflot's refund status?

You must go to Aeroflot's official site and enter your document or ticket number. The airline will show the status of your refund.
Inquiry
Leading online travel services provider
24X7 customer care helpline
Assured lowest prices and superior service experience
Access best flight options across all popular routes