Aer Lingus Airlines Book Now & Save!

24/7 Support
Available 24/7 to help
Secure Booking
Easy & Convenient Booking
Best Price Deal
Best Deals on Packages
24/7 Support
Available 24/7 to help
Secure Booking
Easy & Convenient Booking
Best Price Deal
Best Deals on Packages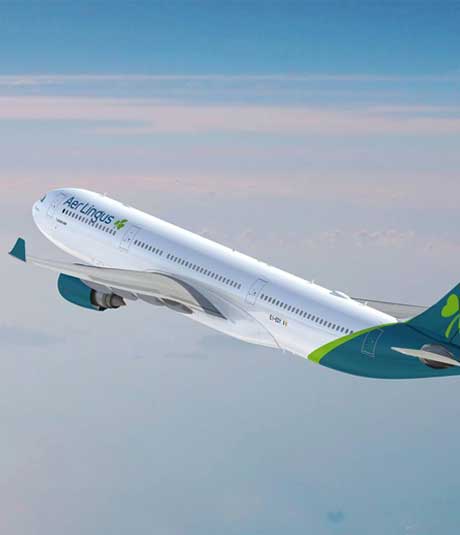 About Aer Lingus Airlines (EI) Flights –
Aer Lingus is an Ireland-based airline they have been in business since 1936. The headquarters is in Dublin. Initially run by the government, but managed by a private entity from 2006 to 2015. But now, International Airlines Group has full authority over the airline. It is the second largest airline in the country after Ryanair. Their flights are quite excellent, which is why people use them and their service within Europe and even to international locations with many useful facilities. Aer Lingus's customer satisfaction flight rating is good, and its planes are safe to fly.
It has 67 aircraft and currently flying to more than 100 destinations all across the world. They fly to sixteen different countries, including Denmark, Sweden, France, Germany, the United Kingdom, Greece, Poland, Hungary, Portugal, Italy, and Malaysia.
How to Get the Best Flight Ticket Deals on Aer Lingus?
If you want to find cheap airline tickets, you should compare prices and visit several online travel agencies as well as the airlines' official websites. In a nutshell, a lot of work but still no surety for the best airfare. Contact JustFlyCheap.com. They will make it easier for you. Passengers can save a good amount on every flight ticket. So, make yourself at home and visit Just Fly Cheap for booking or get in touch with their reservations team.
Aer Lingus Seat in Cabin –
Economy Class :
Economy Class provides fine seating with sufficient legroom for passengers to feel comfortable. They can make their free time fine with movies, music, videos, and games. You can enjoy their fast Wi-Fi service, which is available onboard on A330 and A321Neo aircraft. They make sure your flight experience with Aer Lingus will be good.
Business Class :
Aer Lingus business class is comfortable, luxurious, and excellent. Airlines provide all the services that should be available for a business class traveler. You have access to the 16-inch high-definition touch screen to see new or classic movies, music or videos, and TV box sets, and now you can play your favorite games in midair. Express meal service, fine wine, and regional cuisine complete the picture. Passengers can lie flat in their seats. They can connect with the fast Wi-Fi service available on the flight.
Aer Lingus Baggage Policy –
Carry-on Baggage :
Passengers are permitted to bring one carry-on and one personal item into the cabin. However, there are some restrictions and policies in place.
Checked Baggage :
There is checked baggage allowed for economy class, but both should be 50 lbs. (23 kg) maximum, and their size respectively 158 cm and 140 cm.
If you are flying to or from the USA, one checked bag of 158 cm and should not be more than 50 lbs. or 23 kg.
For Business Class, three checked bags of 50 lbs. (23 kg.) each and a size of 158 cm for the first, second, and third should be 140 cm combined.
Aer Lingus Check-in option –
Check-in online :
Aer Lingus provides an online check-in facility to reduce airport queues. You can do it within 48 hours for a European flight and 24 hours for a North American route. Remember, there is a closing time for online check-in.
Web check-in :
To do mobile check-in, download the Aer Lingus official app from the Play store or Apple store. Once you have installed the app, you can complete check-in and print your boarding pass there. It is available 48 hours to 2 hours (for some routes up to 8.30 hours) before departure. So, go ahead and look it up on the official website.
Airport Check-In :
If you have missed or are not familiar with the given check-in process, then you can choose the airport check-in option. It is recommended to reach the airport 3 hours before the scheduled departure time. It closes in 75 minutes in North America and 45 minutes in Europe.
Frequently Asked Questions –
Can I book Aer Lingus flight tickets online?

If you want to book Aer Lingus tickets online, search for Aer Lingus' official site and book from there. The best way to book tickets is by calling our professionals.

What is the major destination of Aer Lingus?

Aer Lingus flies to Seattle, Manila, Paris, Jakarta, Seoul, New York, San Francisco, London, and many more.

How to cancel Aer Lingus flight tickets?

To cancel your flight ticket, you must fill out a refund request form or get in touch with officials via the toll-free number given on the website.

What is Aer Lingus's Excess Baggage Policy?

If you have access weight, you must pay the airlines, and the price varies depending on weight and route.

Can I change my name on the Aer Lingus flight?

If you want to change your name on the flight tickets, then it will cost you and must be done before two hours of the flight departure. You can contact their customer service team. They will help you with the best advice.

What to do if I lose baggage on Aer Lingus flights?

If you have missed or lost your baggage, then contact the lost and found department of Aer Lingus Airlines. File a report, and they will help within a minimum of time. To learn more, visit the official site.
Inquiry
Leading online travel services provider
24X7 customer care helpline
Assured lowest prices and superior service experience
Access best flight options across all popular routes