Aegean Airlines Book Now & Save!

24/7 Support
Available 24/7 to help
Secure Booking
Easy & Convenient Booking
Best Price Deal
Best Deals on Packages
24/7 Support
Available 24/7 to help
Secure Booking
Easy & Convenient Booking
Best Price Deal
Best Deals on Packages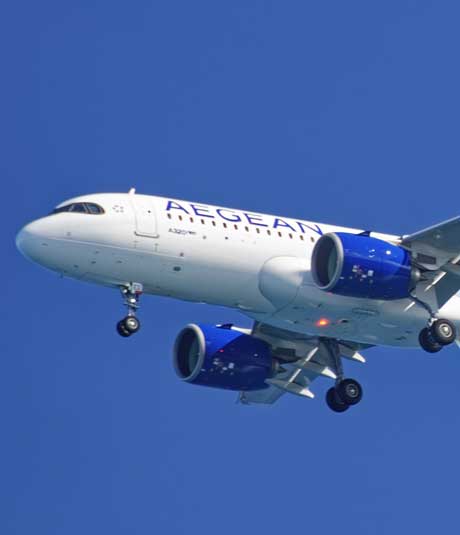 About Aegean Airlines (A3) Flights –
Aegean is one of the major Greek-based airlines. It was founded in 1987 and is known as the biggest airline in the country by destination and passenger number. Athens International Airport, Larnaca, and Thessaloniki International Airport are the hubs of Aegean Airlines. There are 53 aircraft on Aegean airlines, and they travel to more than 140 destinations. In 2009, via codeshare agreement, Aegean Airlines' partnership with Brussels Airlines, Lufthansa, Etihad, Singapore, Turkish, Air Canada, Tap Portugal, and many more. The carrier has been a member of the Star Alliance since 2010. Skytrax gives a four-star safety rating to Aegean Airlines for COVID-19 in flight and airport safety.
How to Get Affordable Flight Tickets?
To book flight tickets at a reasonable price. You should be alert and follow airlines. One of the best options is to contact Just Fly Cheap officials, who will provide flight booking deals and offers. You need to call the provided toll-free number and you will get the best available option for your selected route. They also help with your queries. So, save time by getting in touch with them.
To get the best deals and offers on the Aegean airlines get in touch with officials and make your trip cost effective and unforgettable. Plan your trip and book your seat.
Types of Aegean Airlines Cabins –
Business Class :
Business Class is considered a luxury travel cabin. There are so many extra facilities provided by the airlines to business class passengers compared to economy class. Aegean Airlines seats are 6-way adjustable, cushioned, and have a seat pad to make your journey more comfortable. And the airline provides a touch screen, seatback on demand, movie time snacks, and personal gadgets to make your journey more enjoyable and enjoyable. They offer soft drinks, wines, and spirits. A seat selection facility service is provided to the passengers at the time of booking and more than 30% discount if traveling with children, a special check-in counter, and many other amenities. So, Aegean Airlines' business class is the perfect option for you.
Economy Class :
Airlines always try to provide the best flight experience for their passengers, whether you are flying in the economy or business class. Seats in economy class come with extra legroom and headroom, which make travelers' flight time comfortable. Movies, TV shows, and music are available for entertainment. Their food is delicious and is prepared by qualified chefs. You can enjoy drinks and beverages whenever you want.
Aegean Airlines Baggage Policy –
Check-in Baggage :
If you travel with Economy ComfortFlex, you are allowed one piece of luggage weighing 23 kg (158 cm), and any additional luggage must be paid for by the airline. Business class passengers are permitted two bags, each weighing no more than 32 kg and having the same dimensions as economy class.
Carry-on Baggage :
Business class passengers can travel with either one handbag of 13 kg or two, weighing 8 kg and 5 kg each. It should be not more than 56cm X 45cm X 25cm. On the other hand, economy class passengers can have one piece of hand baggage up to 56cm X 45cm X 25cm and one personal item.
Aegean Airlines Check-in Policy –
Web check-in:
To make travel easier, Aegean Airlines provides web check-in. You can do an online check-in from your home between 48 hours and.5 hours of departure. They provide the facility of a seat section and print boarding passes for the passengers.
Check-in via mobile device :
Almost every passenger carries a mobile phone. So, when the airline starts the mobile check-in process, you need to download the mobile app of the airlines and do the check-in between 48 and 0.5 hours before the flight. Passengers can download their boarding passes and choose seats as well.
Check-in at a Self-Service Kiosk :
You must verify whether your respective airport has this service or not. But yes, you can check in at the airport using a self-service kiosk between 24 hours and 30 minutes before takeoff.
Aegean Airlines Frequently Asked Questions –
What are the famous destinations of Aegean airlines?

Aegean Airlines has many famous destinations such as Vienna, Sofia, Copenhagen, Prague, Helsinki, Paris, Frankfurt, Munich, Budapest, Milan, Barcelona, London, and many more.

Does Aegean Airlines provide WIFI during the flight?

Yes, Wi-Fi is available on most Aegean Airlines aircraft. It is on domestic and international flight types.

What is the cancellation policy of Aegean airlines?

Aegean Airlines passengers can cancel their tickets up to 2 hours before the flight time. But the airline will charge for it. To avoid any charges, cancel within 24 hours of the booking.

Can I book Aegean Airlines flight tickets online?

Passengers can now book Aegean Airlines flight tickets online. They need to navigate to the official site of Aegean Airlines and reserve their flight seat.

Can I modify it with the passenger's name on the flight ticket?

You can make medication of the passenger's name on the flight ticket, but it must be legit, and there is an amount to be paid to the airline.

What is the pet policy of Aegean Airlines?

What is the infant and child policy of the airlines?

If you are traveling with a 7-day-old baby, then you are not allowed, and children less than two years old are considered infants. Airlines charge for the infant seats.

How to book affordable flight tickets with Aegean Airlines?

To book an affordable flight ticket, keep visiting its social profiles, reading newsletters, or contacting us.
Inquiry
Leading online travel services provider
24X7 customer care helpline
Assured lowest prices and superior service experience
Access best flight options across all popular routes