24/7 Support
Available 24/7 to help
Secure Booking
Easy & Convenient Booking
Best Price Deal
Best Deals on Packages
24/7 Support
Available 24/7 to help
Secure Booking
Easy & Convenient Booking
Best Price Deal
Best Deals on Packages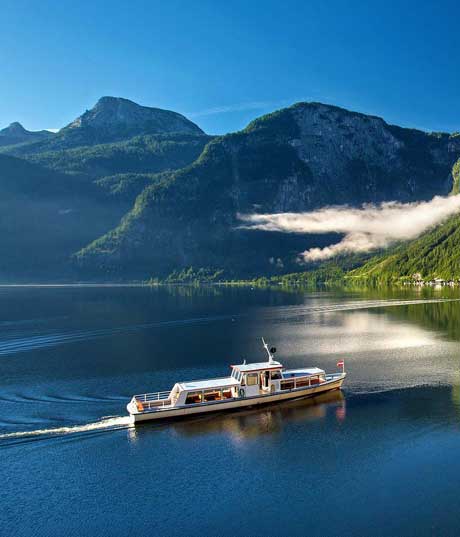 Book Cheap Flights to Austria from USA –
Do you like to visit buildings, castles, and beautiful places? Then Austria is the best choice for you because there are many historical stories about Austria. Vienna (the capital of Austria) is famous for its dance, classical music, and art. Still, the country amazingly carries its legacy. Austria is an enchanting country tucked between the sky-high Alps, with dream-like scenery, picture-perfect meadows, and grasslands. You can make your time here memorable by booking a cheap flight to Austria. Save money by going to justcheapfly.com.
Top Austrian Tourist Attractions -
Vienna :
Vienna is as lovely as you've read anywhere. When you get over here, it will feel so vibrant to you. The city is the center of opera, museums, and historical buildings. You will find many Neo-Renaissance-themed buildings, including the Museum of Fine Art and the National History Museum.
You do not want to miss this place during your trip to Austria, or you will regret it. There are direct flights to Vienna from many cities (New York, Los Angeles, and Chicago) in the USA.
The Zillertal Alps :
The Zillertal Alps area is between Austria and Italy. You will be surprised to learn that there are over 85 different glaciers in Zillertal, with many of them rising above 10,000 feet above sea level.
If you want to visit Hintertux Glacier, you can come here throughout the year. And tourists can go hiking, skiing, and other adventurous things. No doubt, it is one of the most attractive destinations for mountaineers.
Graz :
Graz is in the southeast direction of the country, and there was a great conflict due to its strategic location. After Vienna, Graz is the second largest and most populated city. This place is situated on the banks of the famous Mur River. That is the reason why the land is fertile and forest rich.
If you are planning to go to Austria, do not forget to enjoy the nightlife of Graz.
Worthersee :
This beautiful lake is located between the Karawanks mountain range and the Gurktal Alps. It is one of the most viewed places in the city because of its remarkable setting and landscape. There was a time when it was known as the Monte Carlo of Austria, but now you can tour with your friends and family here.
You can enjoy warm water swimming in the summer season. And there is a bike path around the circumference of the lake where you can have fun.
Salzburg :
Situated near the German border, Salzburg is admitted as the fourth largest city in the country. The Salzach River makes this city even more beautiful. Assuredly, this city attracts tourists from the world throughout the year, with its hill-topped medieval fortress, picturesque Altstadt old town, and breath-taking Alpine scenery.
There are many medieval buildings which have destroyed in the Napoleonic Wars. Some of them are still safe, and Festung Hohensalzburg castle is one of them.
How to reach Austria?
There are many direct flights from the USA to Austria. Let's take a look at those famous routes which fly to Austria directly from the United States of America.
A flight from NYC/JFK to Vienna takes around 8.5 hours.
A flight from Newark to Vienna takes 8.5 hours to reach there.
A flight from Chicago to Vienna takes 8.5 hours.
The flight from Washington, DC to Vienna takes approximately 9 hours.
How to get cheap flights to Austria?
To get cheap flight tickets to Austria, you should book them early. Early booking costs users an affordable flight journey. The price of flight tickets to the destination fluctuates, so you must choose the right time to get your flight seat.
You can search and compare flight ticket prices on justflycheap.com before booking. We offer the best flight ticket deals to Austria for you.
Frequently Asked Questions –
Which airlines fly to Austria non-stop from the US?

United Airlines and Austrian Airlines fly to Vienna, Austria without any stoppage. But these flights are expensive compared to layover flights.

How long is the flight journey to Austria?

The average distance between the USA and Austria is 5061 miles, and airlines take an average of 13 hours and 15 minutes. But New York to Vienna takes around 8.5 hours.

When is the cheapest day to fly to Austria?

Tuesday is considered the cheapest day to fly to Austria. If possible, avoid flying on Saturday because it is the most expensive day for this route.

Which months are affordable to book flight tickets to Austria?

If you are flying to Austria, make the booking in February month because this is the cheapest month to fly to Austria. December is the most expensive month to fly.

Best time to visit Austria?

Make sure you go there in the spring season from April to May or in fall between September to October.
Inquiry
Leading online travel services provider
24X7 customer care helpline
Assured lowest prices and superior service experience
Access best flight options across all popular routes