24/7 Support
Available 24/7 to help
Secure Booking
Easy & Convenient Booking
Best Price Deal
Best Deals on Packages
24/7 Support
Available 24/7 to help
Secure Booking
Easy & Convenient Booking
Best Price Deal
Best Deals on Packages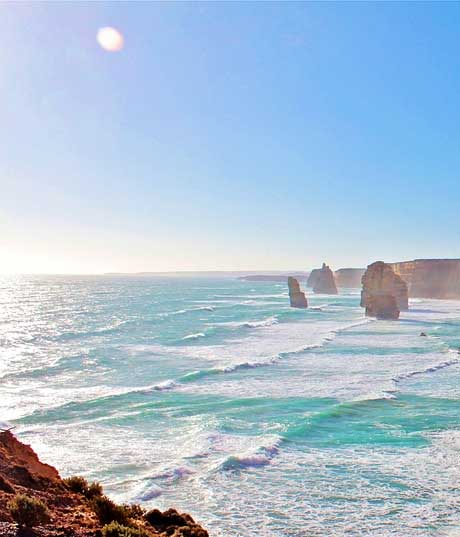 Book Flights Ticket to Australia from USA –
Australia is one of the largest islands and, at the same time, the smallest of all continents. Although exceptionally large, Australia has a very low population density as the climate of central Australia is inhumane and most of the population lives in the coastal regions. Because of the highlands in the east, no moist air can penetrate and make it to the central part, so there is a meager amount of rainfall annually. This also makes Australian geography very unique on its own. However, it is a paradise for travelers from all around the world. You can book cheap flights tickets to Australia from us and see the beauty Australia has to unleash.
Best Cities and Places to Visit in Australia
Sydney :
It is a beautiful and modern city with a long history. Sydney is famous for its scenic harbor. The remarkable Sydney Opera House should definitely be on the priority list. The clear and blue waters on the beaches of Sydney surely need a glimpse of your eyes.
Melbourne :
Melbourne is the second most populated city in Australia. The delicious cuisine reflects Melbourne's multicultural life, which people enjoy there. Flinders Street Railway Station is a popular meeting spot with multiple clocks hanging from the Edwardian Era station's entrance.
Brisbane :
Located on the banks of the Brisbane River, the city's fantastic climate promotes lots of outdoor activities tourists can enjoy all year round, with biking, climbing, and hiking the most popular ones.
The Great Barrier Reef :
Located in the Coral Sea off the coast of Queensland state, the Great Barrier Reef is a marvelous wonder of nature. It is the biggest coral reef formation on the entire Earth. It is a paradise for marine life, including more than a thousand fish species, 360 corals, and many others.
Uluru-Kata Tjuta National Park :
The glamorous red hue of the unique Uluru rock instantly catches any eye's attention, forcing it to stare in wonder. It is also of great cultural and spiritual significance for the Anangu Aboriginal people.
Great Ocean Road :
Stretching up to 243 kilometer-long, the Great Ocean Road has the most beautiful and scenic drives in the world. Located along the south coast of the state of Victoria, this road was completed in 1932.
When is the best time to visit Australia?
Spring and autumn are two of the best seasons to visit Australia because its northern part is hot, humid summer but dry winter. Whereas the southern part of the country has reasonable summer but a rainy and cool winter.
You can enjoy the best of Australia in spring (September to November) or autumn (March to May). To save money, book cheap flights to Australia early. Otherwise, last-minute flight tickets to Australia could be costly for you. You can learn more about the airfare to this beautiful country by visiting our website, justflycheap.com.
How to reach Australia?
Tourism is one of the fine sectors in Australia. That's the reason airlines from major cities around the globe have direct flights to Australia. There are so many airlines like Air India, United Airlines, Cathay Pacific, Thai Airways, Singapore Airlines, Emirates, Etihad Airways, Qatar, British Airways, Turkish Airlines, and many more provide their services to major cities in Australia.
The majority of airlines fly into four major cities in Australia:
Perth
Sydney
Melbourne
Brisbane
Frequently Asked Questions –
What is the best way to find cheap flight tickets to Australia?

You can search for low-cost flight tickets to Australia. Compare airfare prices and select a flight that you find convenient for you.

Can I have flexible change policies for flights to Australia?

It depends and varies from airline to airline. When you are supposed to book flight tickets, use the Flexible Changes policy filter to find relevant flights. Choose them as per your requirements.

What is the cheapest time to book a flight to Australia?

Generally, Tuesday is the most economical day to fly to Australia, and Monday is the 2nd on the list.

In which month I should book flight tickets to Australia for the best deals?

You can purchase flight tickets in February to get the best deals on seat booking. Flight tickets are generally expensive in December due to the festival season.

Which is the cheapest day to fly to Australia?

Saturday is the most expensive day to fly to Australia. So, if it can be possible. Then book your plane tickets to Australia on another day.

How much time is taken by airlines to reach Australia from the USA?

It varies from city to city. For example, if you are flying from Los Angeles to Sydney, it will take 15 hours. Flying from Honolulu to Sydney, on the other hand, will take approximately 11 hours.

What are the best things you can do in Australia?

Travelers start their journey from Melbourne (it is not compulsory). You can visit many famous spots in Melbourne. From a weather point of view, you should prepare yourself for rain, hot or cold.

To see other regions, you can have a rental car and explore this amazing oceanic country.
Inquiry
Leading online travel services provider
24X7 customer care helpline
Assured lowest prices and superior service experience
Access best flight options across all popular routes