Book Flights to Seattle at Low Price

24/7 Support
Available 24/7 to help
Secure Booking
Easy & Convenient Booking
Best Price Deal
Best Deals on Packages
24/7 Support
Available 24/7 to help
Secure Booking
Easy & Convenient Booking
Best Price Deal
Best Deals on Packages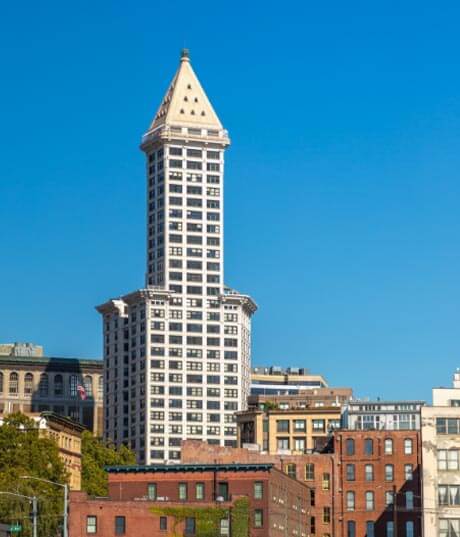 Book Cheap Flights to Seattle (SEA), Washington with JustFlyCheap.com
If you are looking for the best holiday destination, you have visited the right place. JustFlyCheap.com offers lucrative Seattle flight deals that allow passengers to save a significant amount of money. Seattle, surrounded by mountains, forests, and water, is a major city in Washington State. It is known as one of the biggest cities in the state. The Emerald City is the official name of Seattle and is called the Future Queen City of the Pacific. If you are thinking of vacationing in Seattle, get the best flight deals at JustFlyCheap.com.
There are festivals organized around the year which can make your vacation memorable. There are more than 100 festivals that happen in a year. The visitor should try Food and drink, music, the Pride Festival, and many more. Popular city activities include hiking, fishing, and other water sports, all of which are supervised by professionals. So, pack your bag and get your seat to visit the fantastic place in Washington.
Visit our website to get cheap flight tickets or custom vacation packages to Seattle, and our travel experts will help you crack the eye-catching flight ticket deals.
So, what are you waiting? Get your mobile phone and dial our toll-free number, or book online.
What is the Best Time to Visit Seattle?
Seattle is known as the capital of the culture of the northwest Pacific region. If you are planning a holiday in Seattle, then September and October are the best times. July and August are the summer season and half of the year is forecast. There are plenty of things to do throughout the year. We can say the best time to visit Seattle will certainly be contingent on the sort of trip desired.
What are the Top Places to Visit in Seattle?
The Seattle Center and the Space Needle -
It is an iconic building in Seattle and was built in 1962 for the World's Fair. Now, it has turned into a modern tourist attraction in the city, and people come to see the parking area with theaters, sports facilities, and entertainment complexes. You can visit nearby places and enjoy 360-degree views of the city.
The Seattle's Pike Place Market -
You can find fish, fruits, a camera, a laptop, clothes and all sorts of necessary things. If you are a seafood lover, there are some of the best restaurants for seafood. Throughout the spring, summer, and fall, tourists flock to this crowded location near the shore. Pike Place Market is a fantastic place to explore, and you must go.
The Discovery Park—
If you want to sit at the beach and have a drink in Seattle, then Discovery Park is the perfect location for you. It is the finest beach in the city and is spread over nearly 550 acres. You can see a picture-perfect view from the Loop trail and Beach trail.
Chihuly Glass and Garden -
It is from the finest and most visited museums in Seattle. You will admire its glasswork. There are eight galleries to visit, and situated in the center of the city, you can see a video about the artist, and the place is open all day for tourists.
There are so many places where you can visit. We have mentioned them below –
Pioneer Square Historic District
Seattle Aquarium
Woodland Park Zoo
The Museum of History & Industry
Hiram M. Chittenden Locks
Alki Beach Park
Seattle Art Museum
Trip to the Museum of Flight

What are the Famous Airlines Flying to Seattle?

Several airlines are flying nonstop to Seattle from different cities in the world. We have mentioned some of the famous airlines operating in the world.

United Airlines
Air Canada Airlines
British Airways
Frontier Airlines
Alaska Airlines
American Airlines
JetBlue Airways
Air France
Aeromexico

What Are the Major Airports in Seattle?

There are three major airports in Seattle, WA. But Seattle-Tacoma International Airport is one of them. According to a report, more than 36 million passengers in 2021. It is ranked among the top ten airports in the US.

Seattle-Tacoma International Airport (SEA)
King County International Airport (BFI)
Renton Municipal Airport (RNT)
Kenmore Air Harbor Seaplane Base (LKE)

How to reach Seattle?

Getting flight tickets to Seattle is the best way to reach Seattle-Tacoma International Airport has good connectivity with other places, although many international flights fly to Seattle. There are more than 90 nonstop domestic and 28 international flights, including Mexico, Europe, Canada, and Latin America. So, get the cheapest flight ticket deals to Seattle and enjoy your time in Seattle.

How Can I Get the Best and Cheapest Flight Deals to Seattle?

Finding cheap flight deals is not an easy thing today. You have to do lots of things to get the best deals and flight discounts on ticket booking. But when you visit JustFlyCheap.com, they make things easier for you. Passengers should share their details and travel itinerary with our travel agents. We make sure our customers are happy and enjoying their time.

Frequently Asked Questions about Cheap Flights to Seattle (WA) –

What Are the Top Things to Do in Seattle?

Visiting Discovery Park, enjoying a live show, and relaxing at Alki Beach should be top priorities on your list during your trip to Seattle.

How Many Airlines Operate from Seattle Every Day?

There are more than 1,233 flights that operate from Seattle every day.

Is It Possible to Book a Last-Minute Flight to Seattle on Justflycheap.Com?

To book last minute flight deals to Seattle. You can search and choose your plan. To make the booking process easy, contact our booking team.

What Is the Distance Between the Airport and Seattle City?

The distance between Seattle and the airport is around 15 miles, and it takes 20 to 25 minutes to reach there without traffic.

What are the Best Shopping Places in Seattle?

Westlake Center, Pacific Place, and University Village are top places to buy things. There are all kinds of products you can purchase.
Inquiry
Leading online travel services provider
24X7 customer care helpline
Assured lowest prices and superior service experience
Access best flight options across all popular routes