Book Cheap Flights to Fort Lauderdale

24/7 Support
Available 24/7 to help
Secure Booking
Easy & Convenient Booking
Best Price Deal
Best Deals on Packages
24/7 Support
Available 24/7 to help
Secure Booking
Easy & Convenient Booking
Best Price Deal
Best Deals on Packages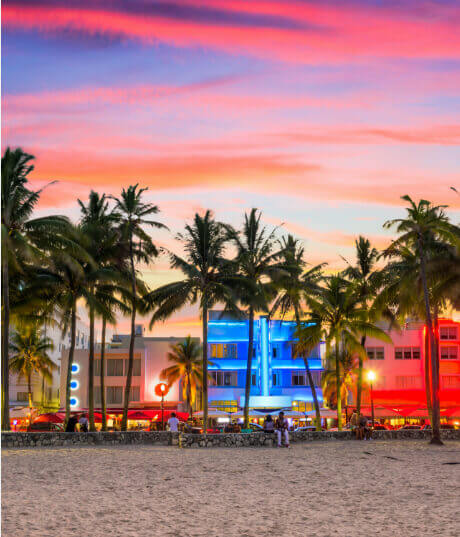 BookCheap Flights to Fort Lauderdale (FLL), Florida at Just Fly Cheap to Save Up to 30% !-
Are you looking for flight tickets to explore one of the most beautiful cities in Florida, Fort Lauderdale? You have landed at the right place at JustFlyCheap.com to get the perfect flight deals to Fort Lauderdale. At JustFlyCheap.com, we are the source of many flight deals from various airlines to make travel affordable for everyone. For example, if you have carry-on baggage, you will try to adjust or spend less on it. Otherwise, you will have to search for other airlines where your baggage allowance can be compromised for some money (it might be higher in price compared to others). Still, you can make your air travel cheaper with JustFlyCheap.com.
About Fort Lauderdale, Florida –
We all love to visit Beautiful sunny beaches, art to enjoy, culture to learn about, and events to enjoy. Fort Lauderdale has everything. It is situated on the south side of the state and is mainly famous for its boating canals and beaches. It is famous as the "Venice of the Americas" because of its 300 miles of inside waterways through Greater Fort Lauderdale and the city itself. Fort Lauderdale is one of the three major cities after Miami and Port St. Lucie, which is the reason behind forming the Miami Metropolitan Region, which has a population of more than 6 million US citizens.
What is the Best Time to Visit Fort Lauderdale, Florida?
As we know, Fort Lauderdale is famous for its beaches, art, and events. So, any time between December and April is considered a wonderful time, and the climate makes it a perfect destination for travelers. Imagine you are at the beach, holding a drink and enjoying the beautiful view of the beach. Everyone does love it. Summer and fall are rainy and sometimes turn into hurricanes, but summer is cheaper for flight tickets and hotels, and you have time and space to spend anywhere you like.
How to Reach Fort Lauderdale, Florida?
If you are in Berlin, London, Australia, or Rome and want to see the beaches of Fort Lauderdale, Florida, flights are the most effective method of transport, and there are many flights every day. Fort Lauderdale International Airport has frequent flights from various domestic and international cities. Our travel experts advised taking flights to reach Fort Lauderdale, and you can choose low-cost airlines too. So, book your flight as soon as possible because last-minute flights are costly.
What are The Top Tourist Attractions in Fort Lauderdale, Florida?
Many places where you should go during trips to Fort Lauderdale. Kindly read; we have cited some of them below.
Beaches in Fort Lauderdale -
The beaches of Fort Lauderdale are the center of attraction, and you can see tourists all year round. One of the finest spots in Fort Lauderdale Beach Park, and you cannot afford to miss it. Other major beaches are Las Olas Beach, Sebastian Street Beach, and many more. It does not matter where you visit Fort Lauderdale. You will enjoy this place.
Las Olas Boulevard –
There are many things apart from beaches in Fort Lauderdale, and Las Olas Boulevard is one of them. There are plenty of outlets and shopping centers where you can purchase jewelry, clothes, and paintings. It is situated in the downtown area of Fort Lauderdale. Do not miss the food at Las Olas Boulevard.
River Walk in Fort Lauderdal –
It is noted that river walks have charm, and Fort Lauderdale river walks are not far from it. It is a 2-and-a-half-mile long trail followed by a new river that creates a fantastic scene. There are several food places, beautiful gardens, and a playground for kids. It could be the perfect place where you can go with your children. So, you cannot miss this place during your trip to Fort Lauderdale, Florida.
The Museum of Discovery and Science—
Do you like to dig for dinosaurs and real fossils? You may go to the Museum of Discovery and Science in Fort Lauderdale. This place is a perfect spot. You can go with your kids because the museum has an extra privilege for children under seven. They can learn by playing.
Some other must-go places in Fort Lauderdale, Florida –
Bonnet House Museum and Gardens
Stranahan House Museum of History
Von D. Mizell-Eula Johnson State Park
Hugh Taylor Birch State Park
NSU Art Museum
Everglades Holiday Park
Flamingo Gardens and Wildlife Sanctuary
Hollywood Art Murals
What is Famous Airlines flying to Fort Lauderdale, Florida?
Several international and domestic airlines fly to and from Fort Lauderdale.
United Airlines
Air Canada Airlines
Copa Airlines
Frontier Airlines
American Airlines
JetBlue Airways
Spirit Airlines
What are the Major Airports in Fort Lauderdale, Florida?
There is a prime airport in Fort Lauderdale, and nearby are Miami, West Palm Beach, and Ft. Myers.
Fort Lauderdale - Hollywood International Airport (FLL)
West Palm Beach (PBI)
Ft. Myers (RSW)
Why should you choose JustFlyCheap.com to book flight tickets to Fort Lauderdale?
JustFlyCheap is a source for cheap flight bookings. We make things easier and more customer-friendly by allowing customers to book flight tickets online. There are various ways to get cheap flight tickets to Fort Lauderdale, but calling the JustFlyCheap booking team is the best. So, get your phone and dial our toll-free number. We keep all things transparent and crystal clear.
Frequently Asked Questions about Flights to Fort Lauderdale, Florida –
How many days do You Need to Explore Fort Lauderdale, Florida?

A minimum of three days is required to explore the city, and a minimum of three days is reasonable to glimpse the beaches and downtown.

Which airport is Best for Flights to Fort Lauderdale?

Fort Lauderdale-Hollywood International Airport is the nearest to the city. It is 19 miles away.

How far should I Book a Flight to Fort Lauderdale?

Are you looking for the best flight deals to Fort Lauderdale? Make sure to book your flight tickets 40 days in advance.

What is the best area to stay in Fort Lauderdale?

The best areas to stay in Fort Lauderdale, Florida, are Las Olas, Lauderdale by the Sea, Victoria Park, and Hollywood Beach.

What is the best place to shop in Fort Lauderdale?

Coral Ridge Mall and the Pompano Citi Center are the best places you can do shopping in Fort Lauderdale.
Inquiry
Leading online travel services provider
24X7 customer care helpline
Assured lowest prices and superior service experience
Access best flight options across all popular routes