24/7 Support
Available 24/7 to help
Secure Booking
Easy & Convenient Booking
Best Price Deal
Best Deals on Packages
24/7 Support
Available 24/7 to help
Secure Booking
Easy & Convenient Booking
Best Price Deal
Best Deals on Packages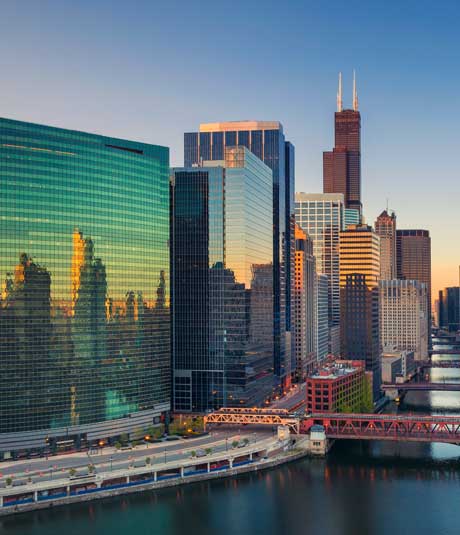 Book Cheap Flights Ticket to Chicago (CHI)
The Windy City - Chicago is going to blow your mind away with its architectural wonders and sturdy skyscrapers. What's even more attractive is to witness how this iconic city has paid tribute to art, culture, and technology. The lists of museums and art cafes are endless here, and they promise to let you time travel with their collections. Its idyllic lakeside views and multi-cultured locals are something you would love to explore and be in awe of. And yes, you might need to loosen up your belt while enjoying delicious cuisine in Chicago, as the city loves to serve good food and even better drinks!
Places in Chicago You Should Not Miss -
Apart from being a Mecca for architecture, Chicago is home to more than 40 iconic museums, over 200 independent galleries and theaters, and approximately 6,500 restaurants serving world-class cuisine prepared by renowned chefs. The street festivals are eclectic, and it's an unavoidable opportunity to imbibe the culture and essence of the city. In totality, the place deserves to be at the top of the bucket list of every traveler.
Buckingham Fountain :
Surrounded by four seahorses, the fountain contains 15,000 gallons of water. The view it provides is simply breathtaking, making it a popular tourist destination
Michigan Avenue and the Magnificent Mile :
It is a popular tourist attraction where you will come across numerous galleries, boutiques, and luxurious shops. There are theaters that host plays, musicals, and comedies.
Millennium Park :
It is home to a polished mirror-like stainless steel surface and is a part of Grant Park, where you can witness the Crown Fountain. In fact, the park seems to be the modern interpretation of the ancient gargoyle.
Navy Pier :
It is an area of 50 acres inclusive of gardens, attractions, shops, restaurants, concert venues, and parks. The most exciting thing about it is that the festivals are conducted the whole year.
What is the weather like in Chicago?
At no time does Chicago dazzle brighter than in the summer. It is the best season to visit the city. Chicago is known for its frigid winters and beautiful summers. The city's mild weather and balanced temperature make it an incredible place to visit during May and June, which are the most popular months to visit. September through November are popular among many tourists, as in these months.
The city witnesses fewer crowds, and prices are relatively low. Summer and winter are brutally hot and cold, so pack your bags accordingly.
How to Reach Chicago by Flight?
Chicago has four international airports apart from some other domestic ones. The location of these airports makes them easily accessible to most parts of the city. These airports host hundreds of airlines frequently, making it easier for tourists to reach their destination by air hassle-free. Reaching the city via flight is the best option because there are many direct flights to and from Chicago.
A flight journey is one of the best options to come to the city. It will save a lot of time, and booking the tickets through our website will also ensure that passengers will save on flight tickets as we offer great deals and discounts on tickets.
Top Airlines flies to and from Chicago -
Etihad Airlines
Air India
Emirates
Lufthansa
British Airways
Cathay Pacific
Qatar Airlines
Chicago's major airports -
Chicago O'Hare International Airport
Chicago Midway International Airport
Gary/Chicago International Airport.
International Airport of Chicago Rockford
Save Big on Cheap Chicago Flight Tickets -
Are you in search of a great flight deal to Chicago? Fortunately, you have landed in the right place. We at JustFlyCheap.com are known for offering the best deals and exclusive offers on flight tickets. So, if you want to book cheap Chicago flight tickets. Then get in touch by phone and contact our customer support team. We will help you out with a plethora of offers so that you can buy tickets at an affordable rate.
Frequently Asked Questions –
Which is the cheapest day to book plane tickets to Chicago?

Tuesday is the cheapest day to fly to Chicago, and Friday is expensive. So, if it is not necessary, then avoid flying on Friday.

How much does it cost from New York to Chicago?

It is a 790-mile distance between them, and a flight from New York to Chicago costs you around $165 on average. Kindly compare flight tickets before booking your flight.

How many flights per day go to Chicago?

More than 2,500 flights are flying from Chicago per day, and more than 1,000 flights fly directly to Chicago per day.

What are the nearby cities of Chicago?

You can go to Cicero, Forest Park, Lincolnwood, Elmwood Park, Lake Villa, and many other nearby Chicago cities

How do you get cheap flight ticket deals to Chicago?

To get cheap flight ticket deals to Chicago, visit JustFlyCheap.com and book your plane tickets to CHI. You can call us to avail exclusive deals on flight tickets.

What is the name of Chicago's airport?

There are many airports in the Chicago area, but O'Hare International Airport is one of them. It is listed as one of the world's five busiest airports.
Inquiry
Leading online travel services provider
24X7 customer care helpline
Assured lowest prices and superior service experience
Access best flight options across all popular routes