Austin Book Now & Save More

24/7 Support
Available 24/7 to help
Secure Booking
Easy & Convenient Booking
Best Price Deal
Best Deals on Packages
24/7 Support
Available 24/7 to help
Secure Booking
Easy & Convenient Booking
Best Price Deal
Best Deals on Packages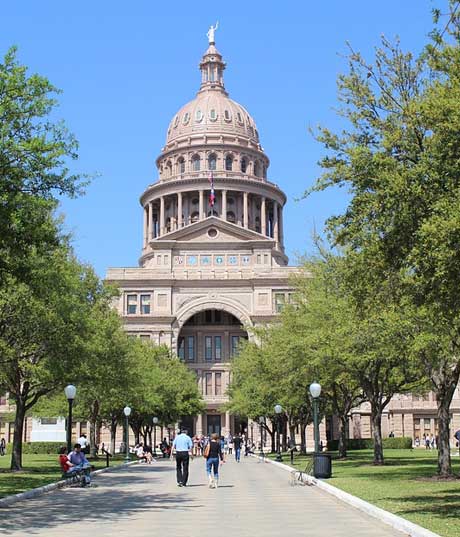 Book Cheap Flights Tickets To Austin (AUS)- Contact JustFlyCheap to Save More
Austin is one of the most beautiful cities in the state of Texas, and many visitors come here to explore the famous tourist spots over here. It is a perfect destination for nature lovers, and the city displays a lot of beautiful gardens and lush green parks, which provide a memorable inclination for a picture-perfect moment for those who believe in the association of nature with love and romance. The city also displays some iconic museums. Each one indicates that the place has a rich history, and the arts and culture here are very vibrant. There are many spectacular places to visit in this iconic city in Texas. You need to make your plans and get in touch with us to book your cheap flight tickets to Austin.
People come around the world to visit the State Capitol's iconic building. It is a well-liked tourist attraction. Similarly, the Texas African American History Memorial is another such place have great historical importance. The city is also trending for some of the best lakes of clear water and scenic natural views.
To Save On Flight Tickets to Austin, Texas contact or visit Just Fly Cheap booking team and save big!
What Are The Popular Tourist Attractions In Austin?
Zilker Metropolitan Park
It is a famous tourist attraction in Austin and covers a green space area of 351 acres. Ladybird lake is the park's main draw, surrounded by different types of trees and flora. People like spending time together, and adults and kids can take boat rides at the lake.
The Mexic-Arte Museum
It gives you a memorable experience as it has a mega collection of paintings and photographs. The museum also organizes hands-on activities, and children find it interesting.
Umlauf Sculpture Garden
An innovative and intriguing sculpture display idea is the Umlauf Sculpture Garden and Museum, which combines a garden and a museum with statues that are depicted in various poses.
You absolutely cannot afford to skip a few additional tourist sites. Some of them are:
Batty about Austin
University of Texas
The Lyndon Baines Johnson Library and Museum
Texas State History Museum, Bullock
Barton Springs Pool
The State Capitol and Visitors Center
Mount Bonnell
Which Airlines Fly To Austin?
Some of the most popular airlines flying to Austin are as below:
United Airlines
Air Canada Airlines
British Airways
Southwest Airlines
Spirit Airlines
Sun Country Airlines
American Airlines
JetBlue Airways
What Are The Major Airports In Austin?
Some of the major airports in Austin are listed below:
Austin-Bergstrom International Airport (AUS)
Killeen–Fort Hood Regional Airport (GRK)
Austin Executive Airport
How to Reach Austin?
We are all restricted by time and want to reach our destination as soon as possible. So, if you like to spend time in Austin, you can take flights to Austin at a reasonable price. Passengers can choose any of the top airlines that provide their services to and from Austin.
How Can We Help You?
You can easily book your flight tickets through our website, and we will be sure you get the best deals and discounts. We have a customer support team, and you may call them for all issues about your flight booking.
Frequently Asked Questions for Flight to Austin –
How Much In Advance Should I Book A Flight To Austin To Get The Best Flight Deals?

Passengers advise booking their flights at least one month before the departure date to get the best deals for their booking.

How Far Is Austin Airport From Downtown Austin?

It is approximately a 7-and-a-half mile distance between Austin International Airport and the downtown city. You can take a cab to cover this distance. And it takes around 30 to 35 minutes.

What Is The Cheapest Day To Fly To Austin?

If you want to book the cheapest plane tickets to Austin, Tuesday and Saturday are the cheapest days to save your hard-earned money.

What Is The Most Expensive Day To Travel To Austin?

Thursday is the most expensive day to travel to Austin. So, if it is not necessary, avoid traveling on this day.

How Many Flights Per Week To Austin, Texas?

There are more than 1,800 flights every week that fly to Austin, Texas. You can save a lot by choosing a smart way of flight booking.

How To Get Cheap Round-Trip Flight Tickets To Austin?

If you want to book cheap round-trip flight tickets to Austin, you must compare flight ticket prices at various online travel agencies and choose the cheapest flights to Austin.

What Is The Best Way To Book Cheap One-Way Flight Tickets?

Several airlines announce deals and discounts on flight tickets to Austin. Keep yourself in touch with them, and you can grab the cheapest flight deals on one-way tickets to Austin.

What Is The Most Famous Route To Austin?

Las Vegas, San Diego, Fort Lauderdale, Chicago, and Phoneix are famous routes to Austin, Texas.
Inquiry
Leading online travel services provider
24X7 customer care helpline
Assured lowest prices and superior service experience
Access best flight options across all popular routes