24/7 Support
Available 24/7 to help
Secure Booking
Easy & Convenient Booking
Best Price Deal
Best Deals on Packages
24/7 Support
Available 24/7 to help
Secure Booking
Easy & Convenient Booking
Best Price Deal
Best Deals on Packages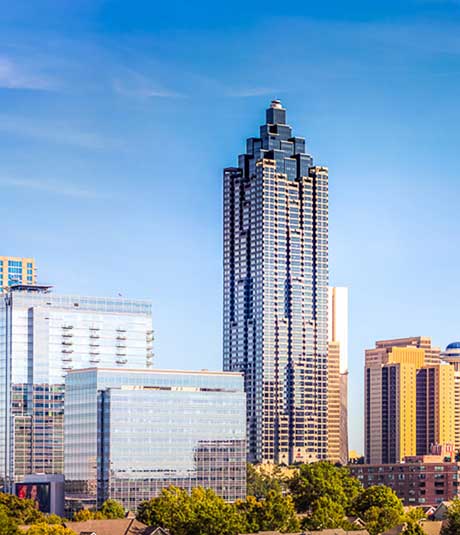 Book Cheap Flights Tickets to Atlanta (ATL)
Atlanta is the most populous city in Georgia, where you can discover many places and do a lot of things. It is a major hub of aircraft, and not only that, it has grown quite rapidly economically and culturally. Atlanta is not only a romantic city but a vibrant one, and the place has gardens and parks, amazing museums, different centres, historical sites, and more to explore. It is a city famous for its tasty food. And you can find many exotic cafes and restaurants serving one of the best cuisines in the world. In fact, the nightlife in Atlanta is extraordinary and full of life. To Enjoy these things, you should Book Cheap flights ticket to Atlanta, Georgia. We recommend to spend some time strolling across the streets in the evening to get a refreshing vibe.
Major Tourist Attractions in Atlanta -
The Fox Theatre:
It is counted as the major attraction in Atlanta. You will find it really energetic. You can get to see the most enthusiastic performances every year.
Georgia Aquarium:
When you are in the city, there is no way that you can afford to miss witnessing the marine diversity at the Georgia Aquarium. At the Georgia Aquarium, you can see almost 100,000 marine creatures, including whales and sharks, included in it.
Atlanta Botanical Garden :
Do you like nature and greenery? Then the Botanical Garden of Atlanta is an attractive place for you. It is full of lavish green gardens and has some decorated places for visitors, like the Winter Garden, the Desert House, the Orchid Display House in the Fuqua Orchid Centre, and the Conservation Garden.
The High Museum of Art :
The art museum is an amazing attraction for art lovers in particular. You can have a look at an extensive collection of 19th-and 20th-century American art at this iconic museum.
The Perfect Time to Visit Atlanta -
If you want to visit Atlanta, the best time could be from March to May. It is time you can take advantage of mild weather while enjoying the city's shows, festivals, and outdoor activities. Summer in Atlanta is quite famous. Although the weather is hot and humid, tourists come to see it and spend quality time here. Around this time, room prices are at their highest compared to other seasons.
How to Get the Best Fares?
Make sure that you buy tickets for Atlanta around two months before departure. Early birds will get the benefits of booking tickets in advance, like exciting offers and discounts.
Major Airlines Extending Its Wings in Atlanta -
These are some airlines that serve the city throughout the year. And many domestic and international flights that fly to and from Atlanta. Some of them are listed below.
American Airlines
Alitalia flights
Virgin Atlantic flights
Qatar Airways flights
British Airways flights
Lufthansa flights
KLM flights
Major Airports in Atlanta (ATL) -
The airports in Atlanta serve some of the world-class airlines along with other world-class facilities. These airports are considered some of the busiest airports in the world. The major airports are:
Hartsfield-Jackson Atlanta International Airport
Savannah / Hilton Head International Airport
What Is the Most Convenient Way to Reach Your Destination?
There are many options through which we can reach our destination by flight. You can go to Atlanta comfortably. After exiting the airport, public transport will be a great support that will take you to your respective location.
What Can We Do for You?
Helping customers is our first and foremost duty. We have provided them with our customer support service number so that customers can convey to us their queries and doubts. We also provide the best offers and discounts when you book flight tickets with us.
Frequently Asked Questions –
What is the cheapest day to fly to Atlanta?

As per our research, Tuesday and Monday are the cheapest days to fly to Atlanta (ATL), Georgia. Sunday is the most expensive day of the week to travel to Atlanta.

How many flights are there in Atlanta?

There are 6902 flights per week departing from and arriving in Atlanta (ATL). More than 150 domestic and 70 international destinations are connected to Atlanta, Georgia.

How can we help customers find the cheapest flight deals to Atlanta, Georgia?

To save money and make the journey more convenient, we show deals across several airlines, which help customers pick flights at affordable airfare.

How much does a flight cost from major cities to Atlanta?

The price of flights varies from one city to another. So, if you are traveling from New York, the average price will cost $100.

What are the international flights from Atlanta?

There are so many international flights from Atlanta and some of them are – Beijing, Lima, Punta Cana, Cancun, London, Amsterdam, Rome, Madrid, and Istanbul
Inquiry
Leading online travel services provider
24X7 customer care helpline
Assured lowest prices and superior service experience
Access best flight options across all popular routes