24/7 Support
Available 24/7 to help
Secure Booking
Easy & Convenient Booking
Best Price Deal
Best Deals on Packages
24/7 Support
Available 24/7 to help
Secure Booking
Easy & Convenient Booking
Best Price Deal
Best Deals on Packages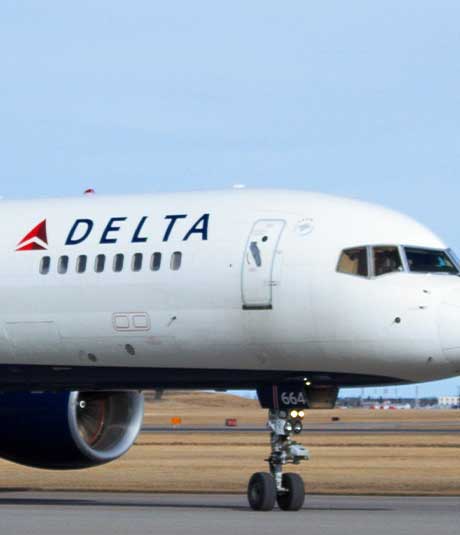 About Delta Airlines (DL) Flights –
Delta Air Lines is a major USA-based airline that operates more than 4,000 flights daily and covers 275 destinations in 52 countries across six continents. Atlanta, Georgia is headquartered. The airlines' brilliant industry-leading services and other committed on-board facilities in an attempt to create a memorable moment for the passengers are most likely the reason for the increasing number of passengers using the airline daily. The airline is a glorious founding member of the 'SkyTeam airline alliance, which has surpassed the 630 million annual passenger count in 2019.
Class of Service
Delta Airlines provides an unmatched range of class and cabin options for all sorts of passengers, from luxurious flights to low-cost seats to more than 275 destinations in 52 countries. The list of a wide range of cabin options on Delta Airlines is-
Delta One :
The cabin offers a premium and the most exclusive experience to its passengers in the sky. A dedicated in-cabin flight attendant is appointed to pamper your comfort and convenience. Which is a specialty of Delta One class.
Delta Premium Select :
On a few international itineraries, Delta offers a better cabin. The added features of Delta Premium Select include a bigger seat with more room to spread out and unwind, more recline, an adjustable footrest and leg rest, and plated meals. Your overall cruise experience can be greatly improved by choosing Delta Premium Select.
First Class :
This cabin is mainly available on domestic flights and provides an exceptional level of personal service, including a dedicated flight attendant. Other facilities include priority check-in and boarding at the airport and complimentary meals and beverages in the air.
Apart from the Delta classes mentioned above, Delta Comfort, Main Cabin, and Basic Economy are some of the most popular classes that Delta Airlines offers.
Major Airport hubs for Delta Airlines -
Atlanta
Boston
Detroit
Los Angeles
New York-JFK International Airport
New York-LaGuardia
Salt Lake City
The Baggage Policy of Delta Airlines -
There are the following limitations to the carry-on baggage policy:
The Size And Weight Restrictions Are:
The maximum measurement should not be more than 45 linear inches (22 x 14 x 9 in) or 115 linear centimeters (56 x 36 x 23 cm) with handles and wheels.
The Passengers' carry-on bags should fit in the overhead bin.
The Passengers' items should be of the proper size. That should fit under the seat in front of the passenger.
Your carry-on limit does not include a jacket, umbrella, diaper bag, duty-free goods, or assistance equipment (wheelchairs, walkers, crutches, strollers, child restraint seats, etc.).
Checked baggage/ luggage policy:
Delta Airlines' standard checked baggage allowance is mentioned below:
Maximum dimensions: 62 linear inches (or 157 linear centimeters) (length + width + height).
Weight limit: 50 pounds (23 kilograms).
Extra charges are applied for exceeding the prescribed limit of the luggage. The airline charges may differ from country to country.
Checked-in options for Delta Airlines -
Online check-in (Web check-in) :
Through the online check-in option, you are provided with the facility to check in for your scheduled flight on the delta airlines official site.
Mobile check-in :
Mobile check-in is an app-based check-in facility for your scheduled flight. All you have to do is to download the Delta Airline mobile app and check in for your trip.
Self-service kiosk check-in at the airport :
It's a self-check-in service through a kiosk machine installed at some selective airports without the help of a representative.
The check-in counter at the airport offers a traditional check-in service and is widely used in practice.
Being one of the leading airlines in the US, Delta Airlines is known for its exceptional on-board and ground service to its passengers. The choice of Delta Airlines to cruise from one destination to another will enrich your travel experiences.
FAQs Delta Airlines –
What is a 24-Hour Risk-Free Cancellation?

Passengers can cancel Delta Air Lines tickets up to 24 hours after the booking. The airline does not charge a fee for this cancelation.

What Are Non-Refundable Flight Tickets?

If you cancel, the airline will not refund all of your money, but you can do so before the flight and, if eligible, get an E-credit.

How to Book Delta Airlines Tickets Online?

To book Delta airline tickets, go to the Delta Airlines official website and fill out all of the required information, then click on the search now and choose your flight at your leisure. The passenger and payment details.

How do I contact a live person on Delta Airlines?

You can call airlines on their official toll-free number.

What are the major international destinations of Delta Airlines?

Delta airline's international destination is –

The United States. Canada. Mexico, Central & South America, Asia, Australia, New Zealand, Tahiti, Africa & The Middle East.
Inquiry
Leading online travel services provider
24X7 customer care helpline
Assured lowest prices and superior service experience
Access best flight options across all popular routes